The Bohle River boat ramp is a reasonable quality dual lane 'keyhole' style ramp. The sides of which are cemented to prevent collapse of the bank. Unfortunately, this makes the ramp a little fibreglass un-frendly. However, the recent addition of a floating walkway pontoon has made launching and retrieving much easier and safer.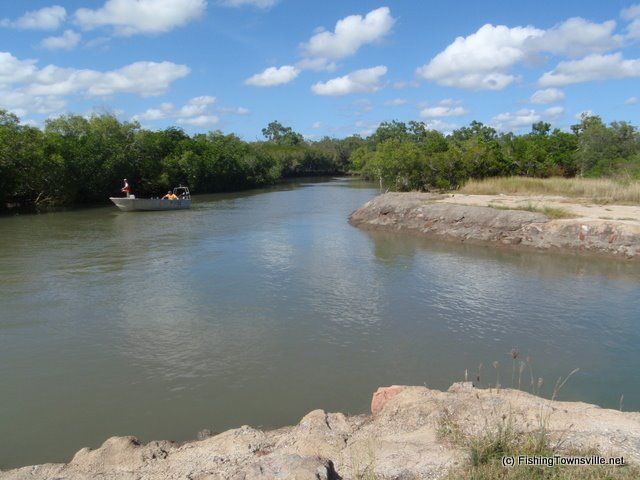 The Bohle ramp is relatively easy to locate. Simply head North out of Townsville and into the suburb of Bushland Beach. Follow Marina Drive until the road ends. There is a short section of dirt, but no problems for conventional vehicles.
The ramp itself is actually located on a side creek (stony creek) of the Bohle proper. It is access through this creek that presents a tidal problem more so than the ramp. Most boats find tides greater than 1m are needed to get through Stony. The worst section is at the mouth of Stony Creek where it enters the Bohle. The Bohle is reasonably deep in most places.
Like most of the ramps in the Townsville region, the Bohle gets very busy on weekends and public holidays. Traffic can be heavy and patience is required as boats coming and going can be painfully slow. The car park can also become very congested and spaces are limited. The majority of the car park is a dirt base. This can become very muddy during periods of heavy rain. It should also be noted that there are two lanes at the top of the ramp that are designated 'rigging' zones. Nobody should park long term in this area as it makes reversing down the ramp very difficult and tight.
There are no facilities at this ramp at all. No toilets, no wash down, no cleaning tables and no security. In fact, this is ones of the worst ramps in Townsville for damage to vehicles. Do not leave valuables in your car, lock the trailer to the vehicle and avoid leaving the car at the ramp for overnight trips. Its also a good idea to check wheel nuts and trailer couplings when returning to the car!
The Bohle River is positioned well for easy offshore runs North of Townsville. Locations such as West Point, Bay and Burdekin Rocks and Rattlesnake are in easy range of small boats. In fact, Rattlesnake is only 10nm from the mouth. Compare this to 17nm from the main ramps in town.
The only problem with ocean runs is the mouth of the Bohle is shallow and difficult to navigate. Allow 1.5m of tide and take great care.