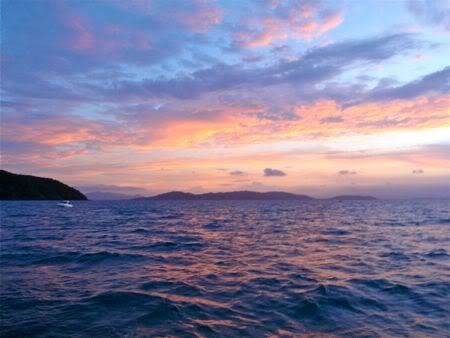 Yesterday afternoon Dad and I headed off to West Point to chase some Fingermark. We had planned this trip all week, but the weather was not as good as expected. We left home about 2pm and first chased some live bait with the cast net along the way. We managed a good haul of big mud herring in very short time. So then it was a challenge to keep them kicking until the boat was in the water and the live bait tank running. But somehow we managed to do it without loosing a single fish.
It was a slow trip across the the point, but managed ok. We anchored on my mark and decided to fish pillies until the sun started to set. We didn't want to go through all the live bait before prime time. And it was a good decision. There were plenty of Nannygai on the mark that kept us quite busy. But not one keeper among them. I gave a lucanus jig a bit of a go, and managed my first Nannygai on one. These are a top looking jig, but the rubber does damage easily.

As the sun slowly fell in the sky I hooked up to something considerably bigger. This came on a pillie fished well out the back of the boat. Turned out to be a nice 3kg plus Grunter. A couple more baits out the back and Dad had one on board to. Soon after, another for me. So three nice Grunter were now sitting in the eski.

Another good run for Dad turned out to be a Golden. With better fish already in the eski he was promptly let go.

As the sun dipped further in the sky we put down the live baits. But the first one that was taken turned out to be a nice little island trout. Not a Fingermark, but I'll take it!

We didn't see too much for a while. And the live bait slowly died. Apparently 6hrs is a little too long to keep Herring alive for. But after dark the squid light was deployed. And it didn't take long for the sounder to light up with activity. We soon had some good size quid to put down. The action, however, was not what you would call fast. It took as while, but Dad did manage to land 2 nice fingermark in the 3 to 4kg range. Me other the other hand kept loosing squid to the plague of Nannygai poised under the boat!

We left about 10.30 after the tide change. And I think it was about 1am when I made it to bed.