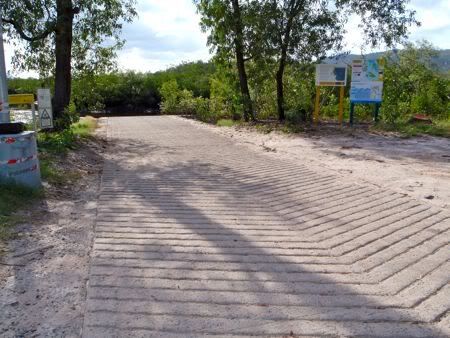 I have driven past the turn off to this ramp many times in the past, but have never had the time to go take a look. So while I was in Cardwell for the holidays I thought I would go for a drive and investigate. This ramp is located about half way between Lucinda (Ingham) and Cardwell, just over the range when heading north. The turn off is well signposted "Fishers Creek Boat Ramp".
I was surprised to find the ramp itself only just off the highway. I thought there would have been a bit of a drive through the scrub first. So no 4wd needed. The ramp is a good quality cement ramp typical of most creeks. The photos shown here are taken on a very low tide, probably 0.5m or so. Obviously the ramp is no good at this time, but it wouldn't take much more water to be fine for small boats.
Parking is simply in the gravel/dirt area around the ramp, but I doubt it gets very busy. There appears to be a toilet block, but I didn't investigate this at all.
I have not yet had the opportunity to investigate this ramp but, as far as I know, it provides very good access to the middle part of Hinchinbrook Chanel for smaller tinnies.

If anyone had some personal experience with this ramp and would like to contribute something, please use the comments section.