Time for the second installment! After returning to Dion's house with his boat, it was probably only 3hrs and I was back on the water in my boat with Tania and kids. Dad was already out on his boat, and plan was to meet up and chase some fingermark for the evening. It was probably around 5pm by the time we found and collected some live bait and anchored up. First bait down wasn't in the water long before it was hit hard. I'm sure it was a Finger, but he bricked me pretty quick. The boat had moved off the mark with a change in wind, so I had to re-anchor. This took a few goes to get right, but the effort paid off. I was soon hooked up to a solid fish. A couple of quick runs back to the bottom had my heart racing. But before long a nice big fat fish was lead into the landing net. A quick phone call to Dad and he revealed that he had also been bricked a couple of times. Again, the boat moved off the mark. We spent a while trying to get the boat sitting right, I lost count of the number of times I pulled that bloody anchor! But eventually we sat right. It was now well and truly dark and the kids and Tania wend to bed. I put out the squid light and sat back and relaxed. Noting happened for quite a while. Then, out of the blue, the ratchet raced under the pressure of the 50lb braid, then noting. I jumped out of the chair expecting to find myself bricked, but instead the fish was moving sideways. I sunk the hook and got stuck into him. I few moments later and I caught a glimpse of the fish in the squid light. Soon another big fat fish was in the boat. This fish later pulled the scales down to 7kg cleaned! I'm not sure of the length, it was longer than my 75cm tape, but I'm guessing close to 90cm. Things went VERY quiet from here, even a live squid didn't get touched. The boat again moved off the mark as the tide slowed. And with 2 good fish in the eski, and tomorrow being another day, I called it a night.
Next morning I woke about 5.45am to find first light had already arrived. I still had a few live bait swimming in the tank from the night before, so I wasn't that worried about collecting too many more. Dad was already up and finding the bait very difficult to get. I pottered around for a bit and then said I would head off wide with what I had. He stayed to try get some bait.

It was a beautiful run, with glass conditions all the way to our next spot. We dropped the live baits and I was instantly hooked up. But this fish turned out to just be a Trevalley. He was released and baits sent back down. There was a lot of fishing marking the sounder, but we couldn't get any takers. After a while of nothing hitting the live baits, we decided to try some cut baits. This proved to be a good move, and we quickly boated 3 Nannygai and a Coral Trout. But things soon went quiet again.

We decided to head to another mark, one I had only been to once before a long time ago. Was again a good move. Within a few drifts we started picking up some nice Trout. There were some under size fish, but in the end we bagged quite a few 40cm plus fish. The biggest went 2.2kg cleaned. There was also some bait around the area being hassled by something. A few flicks of a slice revealed some mackerel feeding. But they were hard to get going. I hooked and lost a couple, including a nice spotty boatside. Eventually I did get one big fat doggie in the eski. There was also some tuna among the school.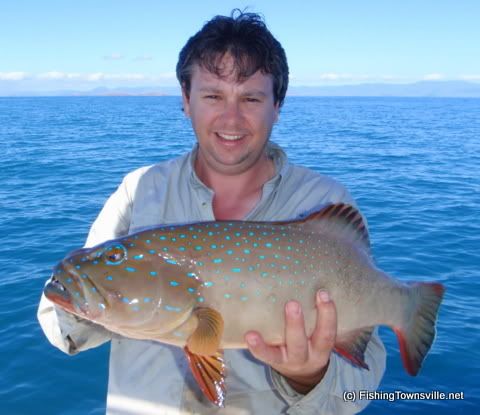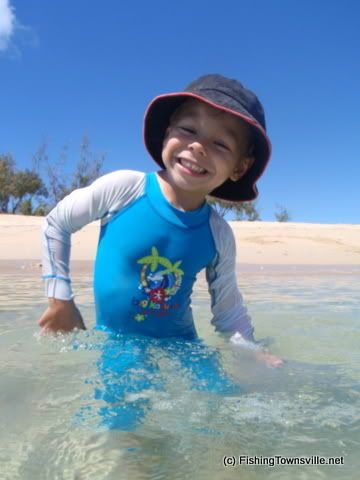 By about 11am it was getting hot and it was time for lunch. We decided to head into a beach on one of the island and give the kids a swim. It was still total glass and the water was crystal clear. From here we headed home, getting back to the ramp about 2pm. What a great day! or Two?