I got to fish yesterday morning with
forum
regular Li'lDave. We took my boat into one of the local creeks to see if we could lure up some Barra and Jack. I was really keen to have a fish with Dave, he is a bit of a specialist with the 3in Atomic Prongs and I wanted to see how he rigged and worked these soft plastic lures. With the lack of success I have been having on hard bodied lures, it would be interesting to see how we sent side by side.
We met up at my place about 4.30am and it was blowing a gale! It wan't going to stop us going fishing in the creeks, but it did force us to have a change of plans and head upstream rather than work around the mouth where we predicted the Barra would be sitting. But it worked out being the better choice anyway, with the small run in tide the water upstream was much cleaner compared to the 'chocolate' colour at the mouth!
We dropped the electric in and started working upstream into the outgoing tide. I like working into the tide, it keeps the boat straight and makes it easier to stop and hold position on a likely looking spot. It uses a little more power from the battery, but we have not gone anywhere near running it flat yet.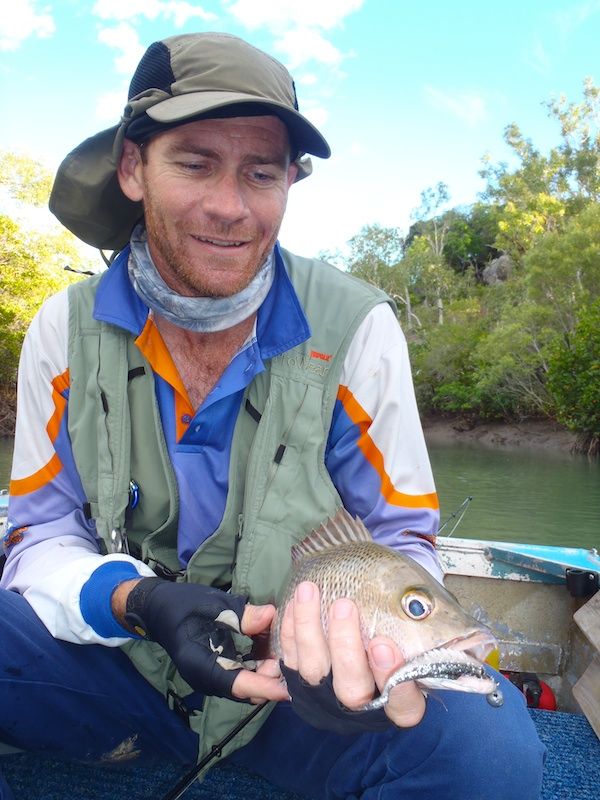 Dave was the first to get a strike, and it hadn't take too long either. He saw the flash, but couldn't identify the culprit. Then a few casts back in the same location and he was connected. A short fight and a small undersize Jack was in the boat. A quick photograph and he was on his way. A good start that got our hopes up for some better fish and kept working.
We hadn't gone too far and Dave was connected again. A MUCH better fish causing the line to 'zip' through the water as it took off downstream. Dave quickly turned the fish and we soon caught a glimpse of it in the clear water, a BIG JACK. A few nervous moments and it was soon in the net. High 5's all round and a dozen photos later and she was in the eski. At 43cm it was an awesome catch, and yes, it fell to one of those 3in prongs! Funny thing was, it came from an indent in the bank that I had put a few casts into already thinking 'there has to be a fish sitting in there'!
I was beginning to think these prongs where the way to go! But I was determined to stay with the Flatz Rat for the morning to be able to make a fair comparison. And it wan't too long and I had a fish on the board. A big black bream. I got to see him come up and smack my Flatz Rat as it sat suspended just below the waters surface. With better fish on offering, I let it go in the hope of a Jack for dinner.
And my Jack wan't too far off, another solid fish that smacked my lure as I worked it under some sticks. I had used a trick of casting just slightly to the upstream side of the snag, then dragged the lure under water. I then paused while the current took the suspending lure under the snag. Then a twitch when it was in the right position and 'BANG' I was on. Soon another fat Jack was in the net and in the boat. This one went 44cm and joined its mate in the eski for dinner.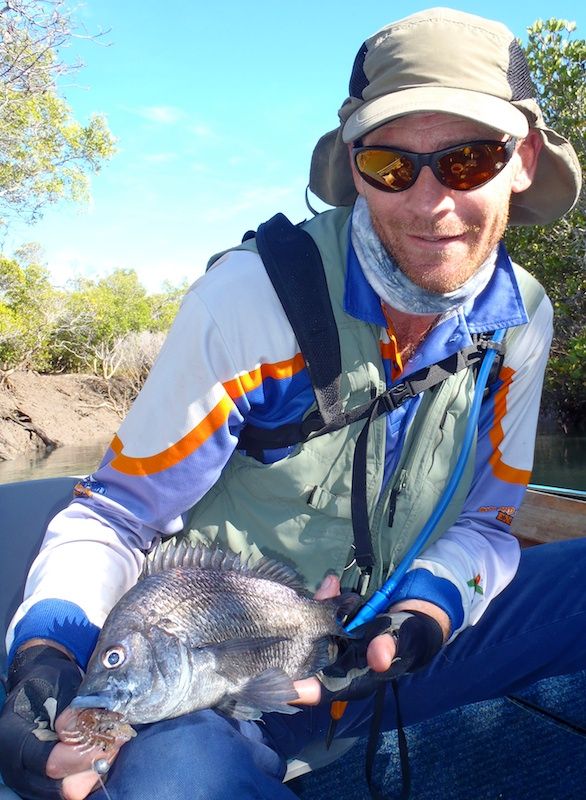 A few snags later and I had another 38cm Jack in the eski. I had said to Dave that to feed my tribe I would need two fish, and now I had them both. The rest of the fish for the day were to be released. Not that it mattered, things went a bit quiet from there. Dave managed numerous other fish on this Prongs, including some nice bream, a couple of small cod and a ripper creek GT. I got one small Barra from a drain, but as the tide fell the water dirtied and most of the snags came out onto the bank. We were left with mainly mud bank to fish. So consequently we didn't manage too much else. The decision was made about 12pm to pull out and call it a day, it had been a good one anyway. Dave's prongs had served him well, but my Flaz Rat put two fish in the eski for me. So I'm happy to stay with the hard bodies, but I will be getting some prongs to keep in the tackle box just in case!