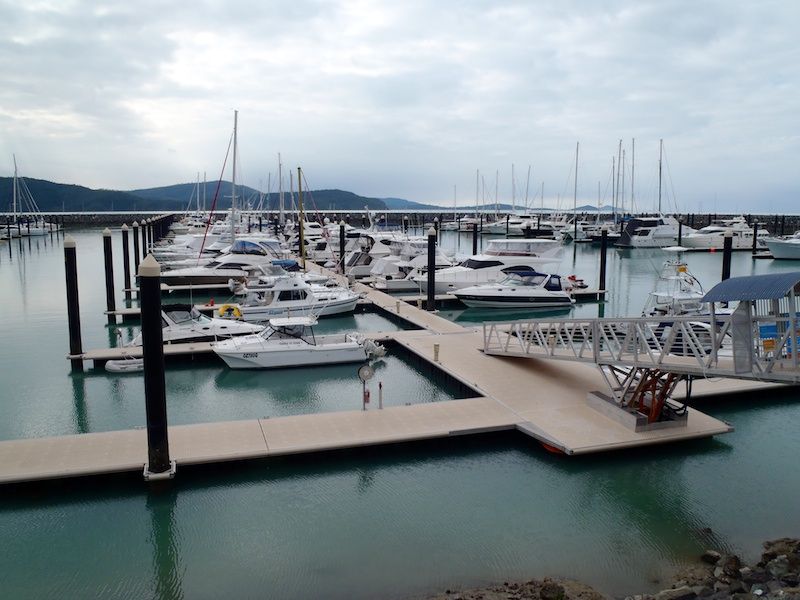 Airlie Beach is a small township located about half way between Bowen and Mackay. It is beautifully positioned to provide easy access to the esteemed Whitsunday Island group. This group of 74 tropical islands include well known destinations such as Hamilton, Daydream, Haymen, Lindeman and SouthMolle to name just a few. While these islands are better recognised world wide as holiday destinations, they and the region in general provide the opportunity for some spectacular fishing. All of the islands are within easy reach of small trailer boats, and good fishing can be had within just a few kilometres of the ramps.
The Airlie Beach region has two main ramps that could be considered all tide deep water ramps. Both ramps are good quality and feature some kind of pontoon or jetty. However, there is one massive drawback of both ramps...PARKING! If you thought parking was a problem in Townsville on good weekends, go have a look at what's available here!
Airlie Beach Marina
This ramp is probably slightly better quality and has a better floating pontoon associated with it. Albeit surrounded by small tenders most of the time! The pontoon is not located down the ramp, but only a short distance away. The ramp is a two lane concrete ramp in excellent condition. Its located inside of the Airlie Beach Marina, and as such is very sheltered from poor weather. Parking here is a massive issue. I didn't count the parking spaces available, but at a guess there is no more than two dozen CBT parking spaces available. I'm guessing on a good day these fill real quick! The Arlie ramp is probably best used by bigger boats and those wishing to access Hooke and the more northern islands.
Shute Harbour
Shout Harbour also has a reasonably good quality 2-3 lane concrete ramp. There is no floating pontoon here, but a jetty not too far away. But the jetty is quite high out of the water, making it a big step down into the boat. This jetty is also covered with many small tenders most of the time. The ramp is located inside the bay and is fairly well sheltered from most strong winds. Parking here is even worse than in Airlie Beach, with just a few CBT parking spaces along the side of the road! This ramp gives closer access to most of the main Whitsunday Islands.