Went for an early morning run yesterday in Dad's boat to the Mackerel grounds of Cape Cleveland. Wind was from the SE at about the 10knot mark, just white-capping lightly. It was a slow run, but with no improvement in the weather any time soon it was worth a shot. After a slow run out we arrived to find not much showing on the sounder at all. We anchored up and tried a few different things before going looking for the fish. It took a while but eventually we found a school of Makerel marking on the sounder. I dropped a metal slice to the bottom and hooked up after only a few turns of the handle. But within seconds I was bitten off. Dad hooked up on a pillie and landed a big fat Doggie. A second drop with a new bumpa-bar and I was bitten off again! I didn't even feel the bite this time, I was winding in hard and suddenly it all went slack. Almost like the lure 'fell' off! After this we couldn't locate the school again. So it was off to another spot.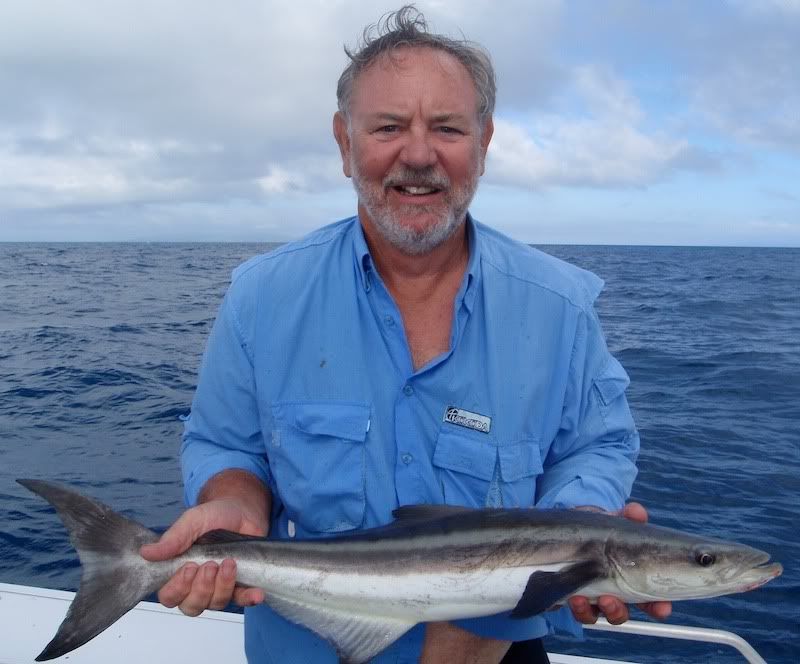 The sounder lit up nicely at our new location, but do you think we could entice the fish to bite? It was starting to look like our efforts and fuel were all for nothing. I had about given up when I thought I'd try something different. I swapped over my Bumpa-bar for a big 7in Gulp. I dropped it to the bottom and 'jerked' it just a few times when it took off with a solid fish. After short but tough fight a nice Cobia around 85cm was boat side. A second fish had followed my fish up and took Dad's pillie, so he was now busy with his own fish. With the net out of reach I went for the tail, but couldn't quite reach. The hook was well down so I thought I'd try a quick lift. Big mistake, the hooks of the jig straightened and fish won its freedom. I really wish someone would make a jig head with a decent hook! But this freed me up to net Dads fish, another Cobia about 85cm. Another bait down for Dad and he was on again, this time a much bigger fish, but it came to the surface reasonably quickly. Dad called it for a shark, but it was a monster Cobia. Easily in the 20kg range. I grabbed the gaff but it typical Cobia style the fish soon took off for the depths. A few mins later and Dad was gaining, then suddenly the leader let go! The fish had worn through the 80lb leader.
I had a new Gulp rigged up and ready to go, so over it went. Only a few jigs off the bottom and I was hooked up. This felt better than my first fish, and was probably in a similar range to Dads big one he had just lost. But on 30lb gear I was really behind the 8-ball! The fish headed for the bottom and I was feathering the spool with my hand to stop it. And I was winning the battle too. Keeping just on the limits of where I knew the 30lb was going to pop I managed to work the fish off the bottom. But while I new the limits of the braid, I was forgetting about the limits of those jig heads! It wasn't long before it straightened and fish swam off. Now I was cranky, these weak ass jigs are not worth two lost fish! You shouldn't straighten hooks on 30lb! But the plastics were working far better than bait, so I had to try again. This time no extra pressure on the spool! Ok, new plastic and another hookup came pretty quickly. This time I let the drag do all the work. But as the fish pealed line off the reel it was clear this wan't going to work. It only took a few mins and fish found structure and snapped off. That was it for me, no more jig heads!
I then sat back and relaxed for a bit with a floating pillie out for a Mackerel. Quite a while went by when suddenly the pillie took off. This was no Mackerel. It pealed line off from my Torium 16 thats loaded with 50lb braid. It headed for the bottom and there was no way I stopping it! As with my previous fish, it found the bottom and soon won the battle.
From all the fish I had on the end of my line I had nothing to bring home! Dad didn't do as well on the pillies in terms of 'bites', but at least he had two fish in the eski! I can't wait to have another go at these fish with the Gulp plastics. But I am determined to find a better jig head!