I searched for a long time for a ganging method that was perfect for floating pilchards for Mackerel. I hated the the way normal gangs 'locked' together and became very inflexible at the joins. I started ganging hooks with a swivel between each hook. But was shown one day just how easily a swivel can be cut by the jaws of a big Mackerel. Test it for yourself one day, they just easily with a pair of scissors! So I was shown the following technique by Fish 'N' 4 wheels star Eddie Riddle. I have found it to be the best system I have used.

I use 2 x 4/0 hooks and half pilchards for Doggie Mackerel and 2 x 5/0 hooks and whole pilchards for Spanish Mackerel. I also use the 2 x 5/0's with large squid or pilchard baits for bottom fishing, particularly when Mackerel are around, as wire off the top hook is usually not required. I don't even use wire traces when specifically targeting Mackerel on floating baits!
The requirements are as follows.
2 x hooks (I like the Tru-turn hooks for this).
1 length of soft No 6 stainless wire (about 10-15cm).
1 pair of fine side cutters.
The length of wire used will determine the gap between the two hooks.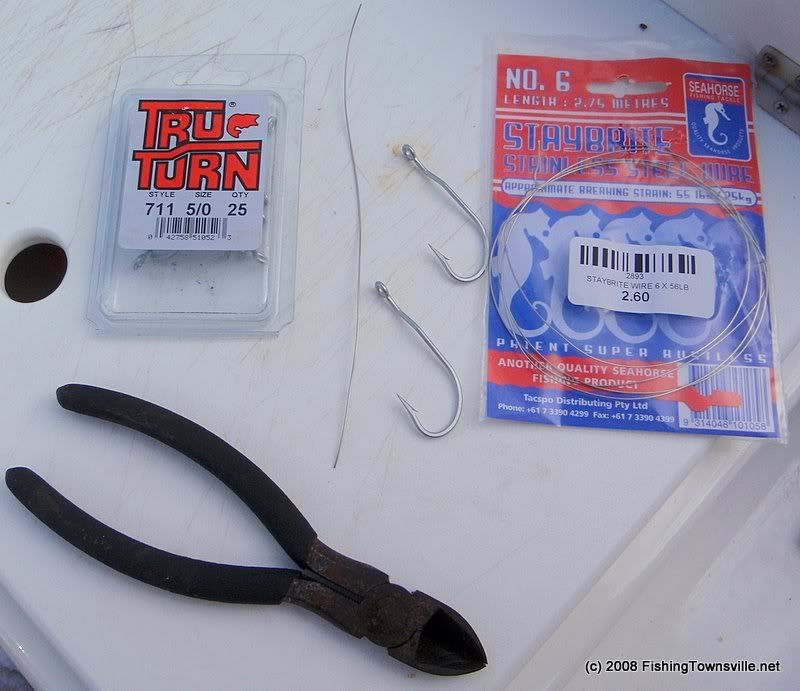 Start by passing one end of the wire through the eye of one hook. Loop it around and pass it through a second time. Then twist the ends together. The result is a double loop on one hook.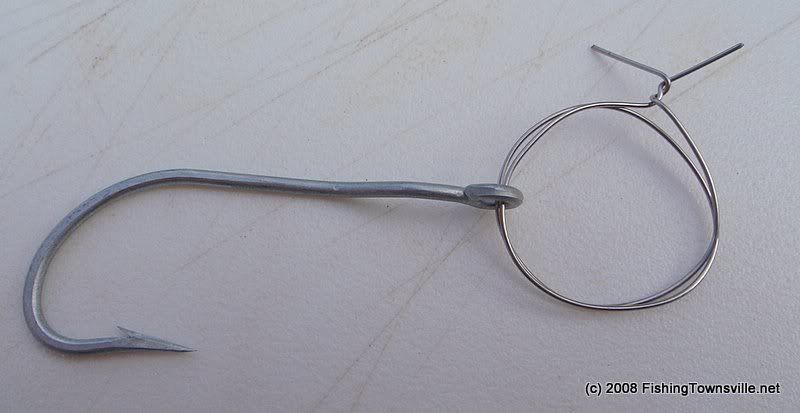 Place the bend of the second hook through the loop. Pull on both hooks to stretch the wire out. Its important here to ensure the tags that are twisted together remain nicely half way between the two hooks.


While pulling firmly on both hooks, begin to rotate the hooks twisting the wire. Continue to do this until the loop around the top hook is firm enough to prevent the barb of the top hook sliding off the wire.


Lastly, trim the tags with a pair of side cutters. Unfortunately there is no 'neat' way to do this. There will likely be a little edge left. But I have never had a problem.