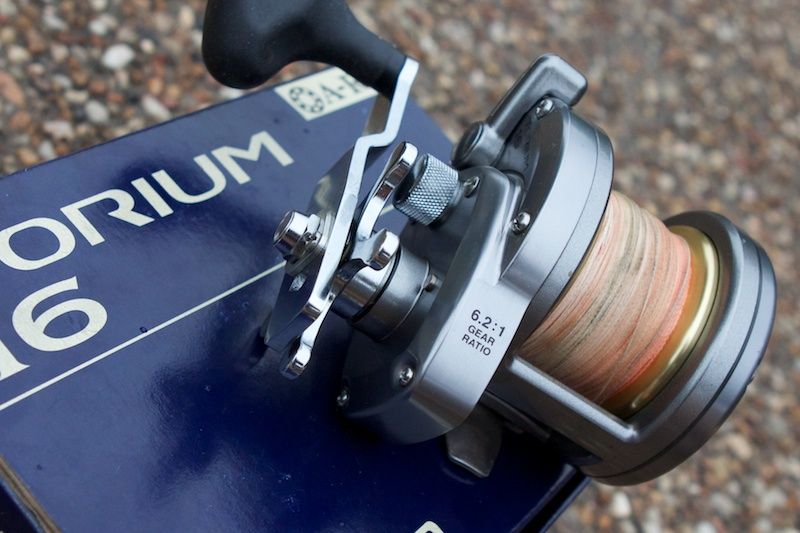 The
Shimano
Torium 16
is one of the most versatile offshore overhead reels you could ever own! I have a pair of these reels loaded with 50lb braid sitting on custom graphite rods. Priced not too much over $200 they represent excellent value for money. I use this setup for dead baiting the shoals and reef, floating baits for Mackerel, trolling, live baiting, heavy jigging of plastics and high speed spinning.
The
Torium
range feature an all aluminium design including spool, frame and side plates. This makes for a very strong and light construction. Although weighting in at 635g its not a light reel! One thing I have found is that the die cast frame and side plates do suffer from corrosion in the form of pitting around screw holes and any scratches. But having said that, I have had my reels now for a few years and this is very minimal and totally cosmetic.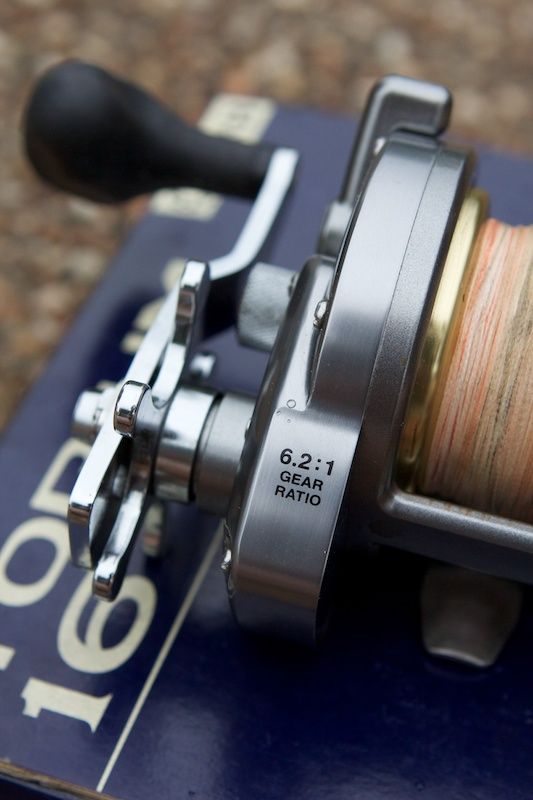 The gear ratio of the
Torium 16
is a very impressive 6.2:1. This is achieved via a large main gear and allows a massive 117cm of line retrieved per turn of the handle. I am a big fan of high speed reels, and this one impresses me a lot. It makes a great high speed reel for working metal off the bottom for Spanish Mackerel and allows baited hooks to be retrieved to the surface for re-baiting very quickly. You can also pick up a lot of slack if a fish swims toward the boat. I think of it like this, you can always slow down your retrieve, but you can only wind so fast! Some people claim that this comes at a loss of low down 'grunt' for getting big fish up from the bottom. But I would argue that if you are using a proper 'pump and wind' technique then this is not an issue. The lifting of the rod brings the fish toward you and your are just taking up the slack. The only time a low gear ratio helps here is if you are dead winding the fish up!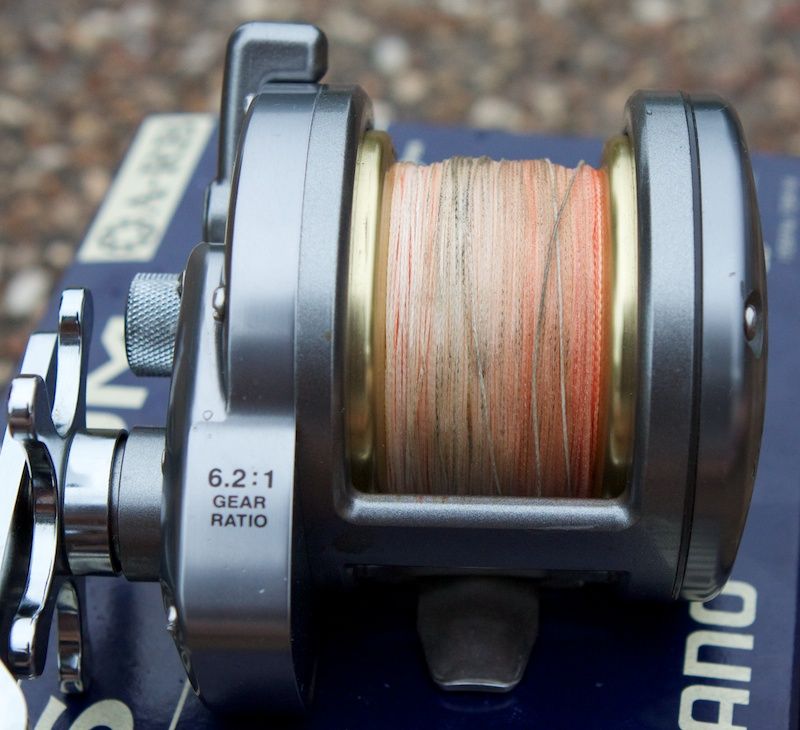 The
Torium
range do not feature a level-wind system. This means a thumb is used to guide the line evenly onto the spool as line is retrieved. If a level wind is an important feature for you then there is always the
Tekota
range of reels available as an option. But in my opinion the Torium is a much better reel overall. There is also a small risk of level-winds failing and jamming, something you don't have to worry about with this reel. One of the reasons I went of the 16 size over the 20 is that the 16 has a narrow spool. This does a couple of things. Firstly, the reel is lighter and better balanced on the top of the rod. But secondly, as the spool is narrow, the requirement for levelling the line accurately is greatly reduced. Obviously from an empty spool line should be laid on the reel properly, but my wife can use this reel all day in 40m of water and never worry about line lay. Loss of line capacity in the 16 verses the 20 is not even worth considering. The 16 still holds 465m of 50lb Power Pro!
The
Torium
reels feature 3 stainless steel A-RB bearings and one roller bearing. The bearings are positioned at either end of the spool and at the base of the handle. The roller bearing is smooth and accurate preventing any backward movement of the spool. There is also a backup anti-reverse mechanism inside the reel under the main gear.
The drag system inside the
Torium
is a multi-waster star drag using high performance Dartainium washers. These washers a massive and sit neatly inside the main gear. The Dartainium washers allow for very smooth high speed runs from pelagic fish. Maximum drag is rated at 10kg, more than enough to fish 50lb braid to the limit. The star drag also features a nice 'click' to it as adjustments are made.
The position (i.e. length) of the handle can also be altered should more 'power' be required. But I have never move it from the original position. The knob itself is quite basic compared to higher end reels, but is comfortable enough for continued use. Alternate after market options are available if you don't find the stock handle comfortable enough.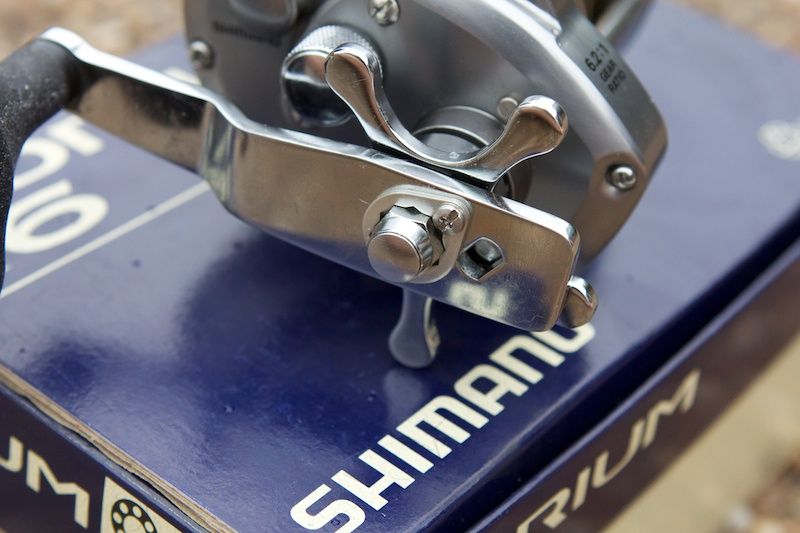 Free spool is achieved via a manual clutch lever. The spool runs very evenly and casting things like unweighted pilchards is very easy. There is also a ratchet on the left hand side plate that can be activated that will prevent overruns while in free spool or can alert to strikes when trolling or live baiting. A rod clamp can be used for a more secure attachment to the rod when using heavy lines.
I would say the vast majority of fishing done out of Townsville is dead baiting for bottom fish around the shoals and reef as well as trolling for Spanish Mackerel. This reel is spot on for both these tasks plus a whole lot more! Have a look at the
Torium 16
and the full range of
Shimano
reels today at
Pro Tackle Townsville
.
Features
• Diecast Aluminum Frame
• Stamped Aluminum Right Sideplate
• Aluminum Braced Graphite Left Side Plate
• Aluminum Spool
• Manual Clutch Lever
• Rod Clamp
• Ergonomic Power Handle (50 only)
• Three-Position Power Grip (16, 20 and 30 only)
• Adjustable Handle Shank