Today Dad and I finally got the opportunity to once again get out and try for some Fingermark on the new
Gulp Squid Vicious
soft plastics. We had been watching the weather all week, but as Sunday slowly started to look worse and worse we decided West Point was as far as we needed to go. We hit the ramp about 4.30am to find very little water on it! I knew the low tide of 0.36m was going to make things challenging, and was the main reason I didn't want to launch any earlier. We ended up using the far ramp and had no trouble at all.
We had a beautiful run down the inside of the Island, with the water almost glassing out as we got closer to our destination. We worked the plastics around several marks in the area, but despite large shows of bail all around we struggled for so much as a bite. We worked hard all morning dotting from mark to mark. A couple of Nannygai and some small cod were all that made it in the boat. Eventually we moved to a mark closer to the Island and soon found success with several hard hits and fish bust offs. Its rough country here, and all the fish found their home with ease. The only fish landed was a small Queenfish and a GT.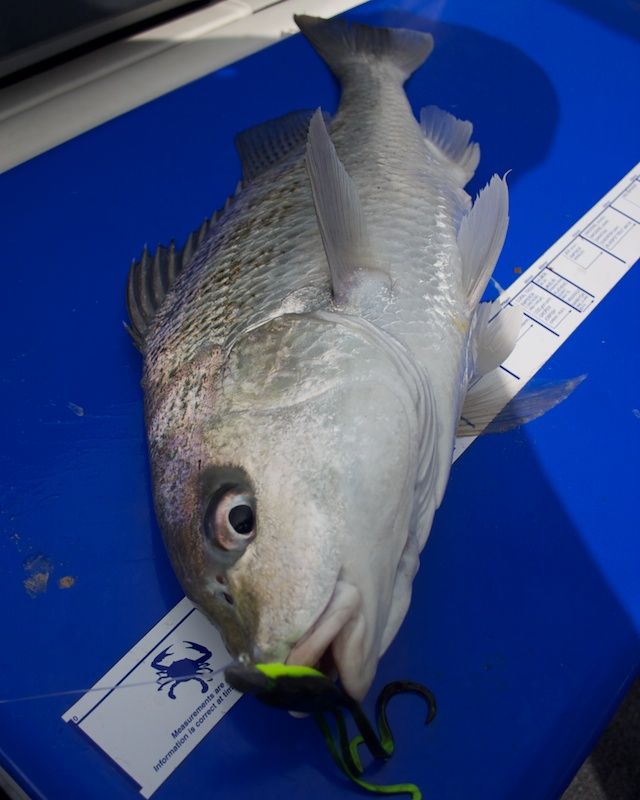 As the tide topped out we moved wide again. This time we found a few fish willing to bite. I was first with a fish in the boat, a small Fingermark just over 40cm. At last a fish in the eski! He was soon joined by a nice Grunter just a little bigger, and then another Grunter of much bigger proportions. This was now starting to look good, well for me at least! Then came a complete shock, and solid fish that hit hard and tore line off in several strong bursts. I had my fingers crossed for a bigger Fingermark, but Dad had tipped correctly... A big fat Catfish!!
Still hopping between marks I soon hooked up to a better fish. Good head shakes and tail beats, much more Fingermark like. Soon a better quality fish was boat side and in the Eski. At about 3kg this was looking like the fish of the morning.
By this stage Dad was a little frustrated at the number of fish I had in the boat and lack of bites he was getting. So he decided to go with what I was doing and downsize his leader and jig head. He wouldn't have made half a dozen casts when a big fish hit hard and took off. This was a quality fish that had us worried a number of times and she headed hard for the structure. But with hand on the spool and tackle pushed to the limits Dad held her back each time. Soon a large Golden shape appeared from the depths. A big Finger! In the net and it was high 5's all round. The fish went 89cm and is probably around 7kg.
Dad decided to put down a rather large live bait while we were drifting the marks. This was the result of his efforts! The live bait lasted 1 drift and about 5mins!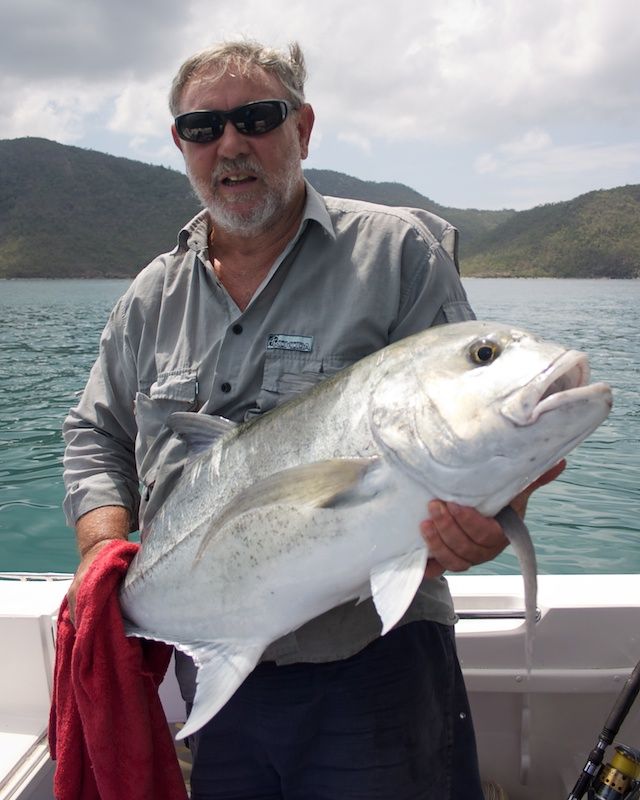 As the tide turned and started to run out hard the bite stopped. We tried a few more spots but soon headed home. A good run again until the last 10mins outside the harbour. Despite the average weather forecast we had managed to have an awesome day on the water.
I found most success today on the
Squid Vicious
in
Black Catalpa
. But the
Orange Tiger
also produced fish, but I had gone through the only packet I had before the bite really started. I fished these plastics on a Nitro Jig Head in 3/8oz 3/0. 1/2oz was needed when the tide was running harder, but the downsize was worth it as the run slowed. The Gulp plastics and Nitro Jig Heads are both available at
Pro Tackle
. Both Terry and Graham have been using these plastics with great success and will talk anyone through the technique. I was fishing with a Shimano Sustain 4000 on a 7 foot Loomis Spin stick. 20lb braided mainline and 40lb leader managed to win most of the battles! It seems light is best. The vast majority of the fish came on the last of the run in tide and the water slowed a little.