Wednesday was my Dad's 63rd birthday, and the weather gods had blessed him with light winds and no rain. So it was off to the shoals for a fish! With my boat still for sale in at
Townsville Marine
, I skippered his boat so he could relax and fish. We were well aware of the floating debris in the water after the floods, so it wasn't until first light that we left the ramp. Despite the near glass out conditions it was a little sloppy heading out and took longer than anticipated. But we new it was going to be an awesome day as things settled down.
Our first stop was at a massive floating log just a kilometre or so short of our mark. I cast a 7in Gulp Jerk Shad to the log and let it sink to about the 10m mark. A couple of quick lifts of the rod and I was on! A solid fish started slowly pulling the brand new 30lb Power Pro from my TwinPower 6000fc. But suddenly all went slack. When I pulled in it appeared to have been cleanly bitten off. Definitely not a break off, I hadn't applied anywhere near enough pressure to break 80lb leader. So we are not sure what that fish was, maybe a Mackerel, but it never took a blistering run? A couple more casts with no further success and we headed for our mark.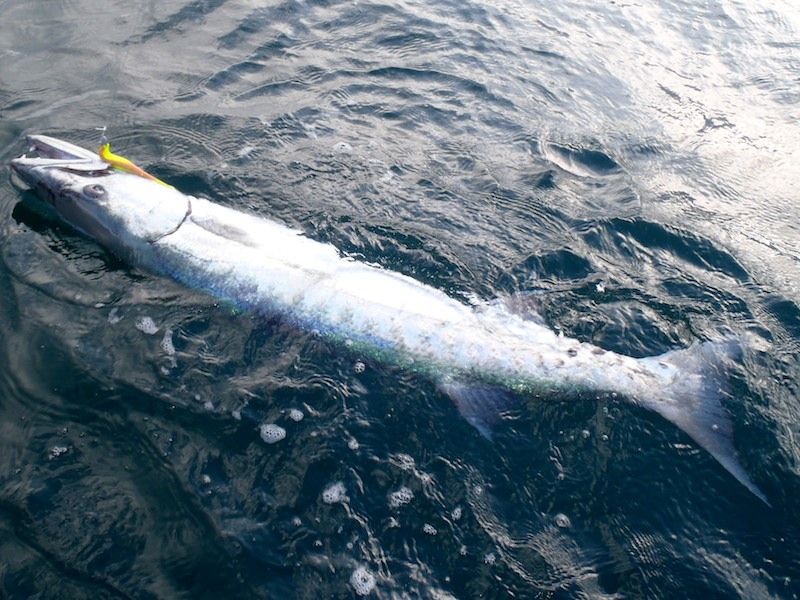 We started off drifting the mark to work out a line to anchor to. I continued to fish with 7in Jerk Shads while Dad fished his trusty Pillies. Dad picked up a couple of small reefies and I boated 2 small GT's about the 3kg mark. It was obvious there were some Mackerel about as Dad was bitten off a couple of times and I kept bringing back 2in Gulps to the boat when they definitely went down at 7in! Then suddenly something grabbed my line and tore off. I was thinking one of these Mackerel had finally managed to hook itself in a position that didn't result in a bite off. But despite a couple of fast and powerful runs then fish tired quickly and came in quite easily. Soon a massive Barracouda was boat side. I hate couda, but since I hadn't photographed any fish so far I though I better get a shot of this guys. I had to mouth gaff him to get the hook out anyway. But it was the worst mistake ever!! These things stink, and now, so did I!!
With so many Mackerel obviously in the water I changed over to a metal slice. I soon had 1...2...3 then 4 fish landed. They were everywhere! But unfortunately every one of them was between 70cm and 75cm. Another drop of the Bumpa Bar and bang, reel screaming. This was a better fish! Several good runs later and a nice keeper Spanish is finally lead to the gaff.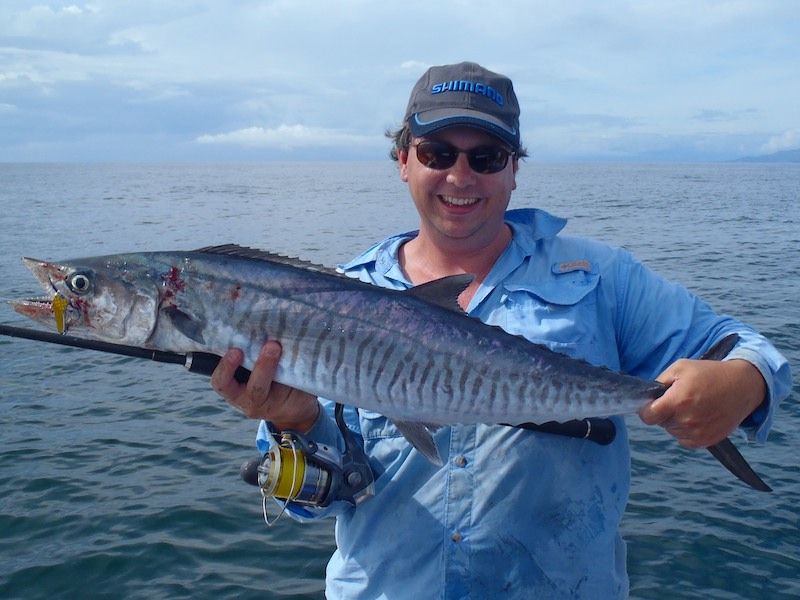 We then attempted to anchor on the mark to try for some Nannygai and maybe a Cobia. But anchoring proved difficult. It took us several attempts and more than an hour to get it right, and even then we were still not quite on it. But it didn't matter, the mackerel were everywhere we were. I started working the bottom again, but put a floating pillie out the back hoping for a bigger Mackerel. But I wasn't really getting a chance to fish the bottom as the floater wasn't lasting long! Despite several smaller fish again I did manage one more solid keeper.
Dad was kept very busy all morning with his pillies. Lots of undersize nannygai and other reefies as well as Trevalley and many bitten off Mackerel. He did manage to land one thumping doggie mackerel that didn't stand a chance of biting him off...it was hooked in the tail! Dad also managed to hook up what were were both hoping was to be a massive Cobia. It took lots of line, ran high in the water, and took him all around the boat. But after half an hour we caught sight of the culprit, a massive Bronze Whaler shark! A fantastic effort to get him in, but disappointing after putting in such a huge effort.
But he did manage a nice little Cobe not too long before we called it a day and headed in. It was a magnificent morning of the water! I hope 2011 brings us many more days like this one. Happy New Year!