The weather Gods really did turn it on for us this weekend. And about time too. Other commitments meant Tania and I had to wait until Sunday to get the kids out on the water. But no worries, Sunday was predicted to be the better day anyway.
We woke the kids as 3am and were at the ramp by 4.30 in the hope we would secure a park. But it wasn't to be, cars where already parked outside, and by the looks of it they had been for quite a while! We did hear someone on the radio later in the morning mention some parked as far away as the strand. We wondered at the time if we should go to Barnacle st considering the extra parking now available there. So on the way home we went for a drive to check it out. Nope, just as bad there! And while there is probably as many spaces there as the Coast Guard, there is only the one set of lanes, so it was major congestion for those returning. There must have been hundreds of cars not able to secure a proper park, just highlighting how far short we are of the requirement. To top it off, I noticed quite a few single cars parked in the new area on Barnacle st. I wouldn't be surprised if one day some of these cars get damaged from rather disgruntled fishermen forced out of their entitled car park! Anyway, onto the fishing.
We headed first to the Mackerel Grounds to fish for some Spaniards on first light. A lovely school of fish showed right on the mark as we pulled up. Tania's first bait down resulted in an instant bite off, so I rigged up a gang hook with sinker and she sent it down for a second try. Didn't take long and she was hooked to good fish. The fight was a little strange, and initially both of us were thinking by Trevor. There was no blistering run and the fight was 'head-shakey'. Then, as the fish came up, it started to head to the surface. Again, not fast, but very powerful. We were now thinking Cobia. But eventually she worked the fish into sight and it was indeed Spanish Mackerel. We estimate about 12kg, her best to date and a top effort.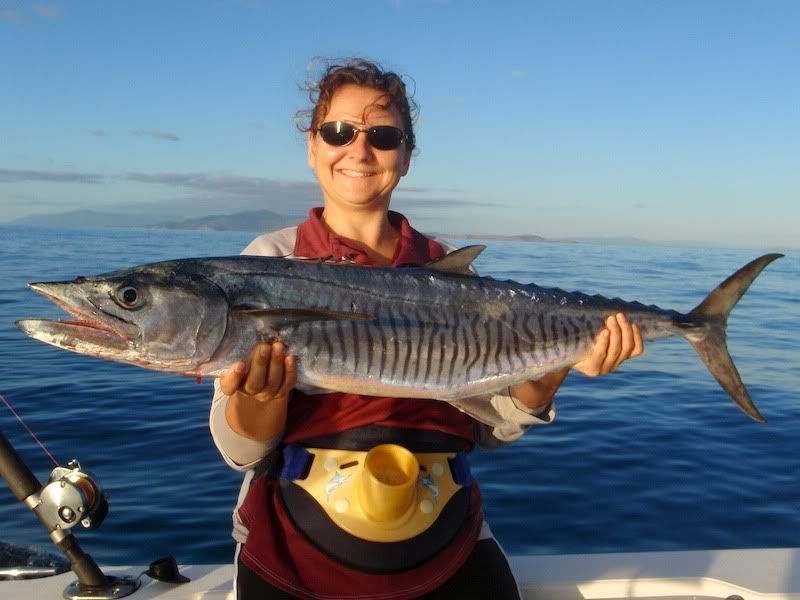 The school had moved from our original mark, so we had to sound around a bit. We relocated them not too far off and I sent down a Bumpa-bar and Tania stuck to her Pillie. I got a hit straight away, but the hooks didn't find their mark. Tania got a good hit on here pillie, but when she pulled it in the tail had been sliced clean off, just missing the back hook. From here we had real trouble locating the fish and holding to them. So we decided to troll a couple of Gar. There were a lot of boats now anchored in the area doing their thing, as well as a few trolling. We trolled around the boats and after about 15mins Tania's rod goes off. I hit the throttle to sink the hooks and she was into a good fish again. Close to other boats she now had a bit of an audience....but she managed like a pro. Also meant I had an audience for the gaff shot! But I hit it clean in the back of the head first go! Not as big as her fist fish, it was still a respectable 8kg or so.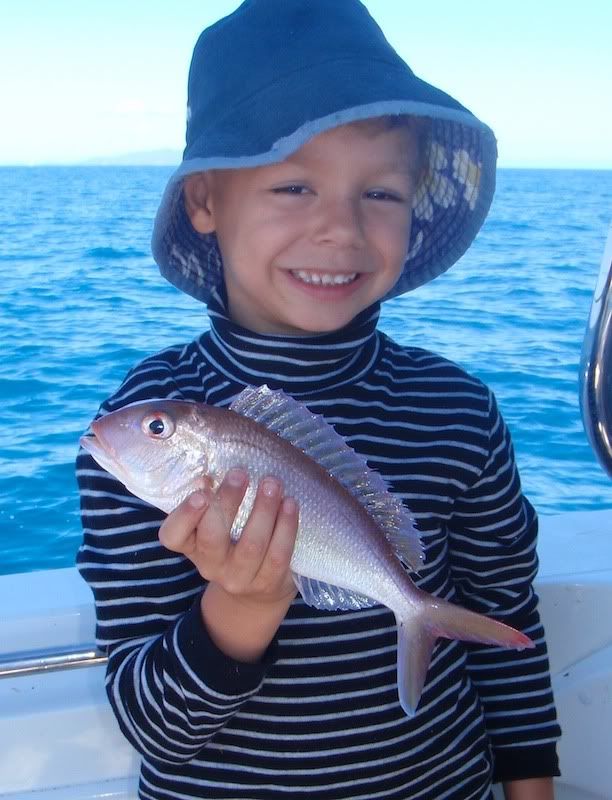 We trolled for a little longer with no further success. So time for another spot. As the weather was so good I decided to head to the Bommer Wreck. Its a spot I have never been to, but always wanted to take a look at. From where we were it was only about a 15min run. On arrival there were about 5 other boats in the area. None of whome looked like they were doing a whole lot. There were large schools of Batfish cruising around and plenty showing on the sounder. But we could hardly manage a bite. The other boats slowly dispersed, so we headed off too. I'm not sure if this spot fished better earlier? Or if it's just not that good?
Next spot was over to the Maggie Shoals to look for a Nannygai. A few fish were showing on the sounder, but most of what came on board was quite small. I managed on keeper Nanny that needed to go on the tape to make sure, and one good size grass sweetlip. Lachy even had a bit of a fish here as there was no real size.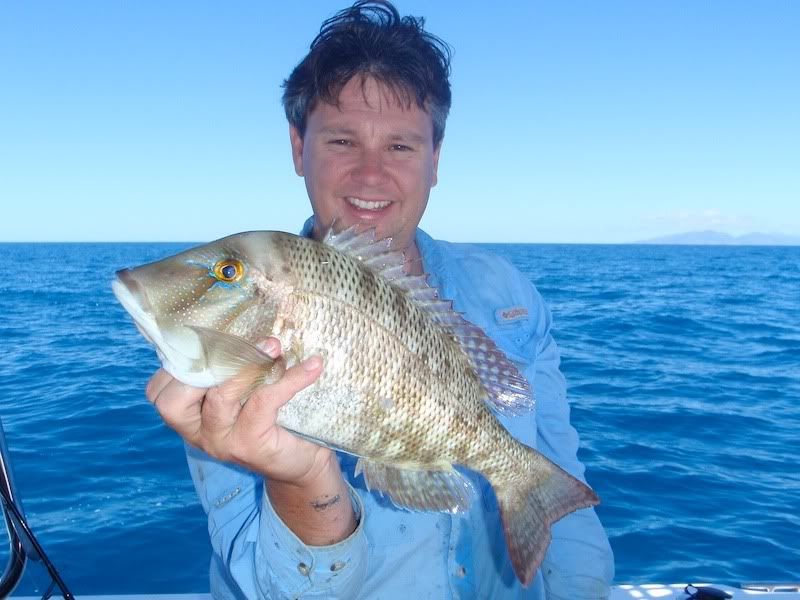 With other things on the agenda for the day we called it quits about midday and headed in. Glass run home in what can only be described as perfect conditions. If only we could get more days like this!