Well my Barramundi drought was sort of broken yesterday. I managed a few, but only rats. Dad and I headed south without the boat to try our hand at some land based fishing. Dad managed a 6in Barra first cast on a gold bomber at our fist location, followed not long later with a tiddler for me.
We then headed to our main spot for the morning, but the tide took a LOT longer to turn than expected. We fished for about 2 hours past what we thought was going to be change of tide time, and managed only 1 Rat barra and a nice jack. We were feeling pretty sorry for ourselves after putting in literally hundreds of casts with a whole multitude of plastics and hard bodies. Then a couple of guys showed up late in the morning and throw the cast net for some bait. First throw and they nail a 64cm Barra IN THE NET. Talk about rub salt in the wound! We knew the fish were there, we had seen a meter plus monster crash bait around the mangroves. But we couldn't entice them.
We joked with the guys for a while about their lucky capture, but then got a little jacked off when they lined up and threw their live mullet right into the path where we were clearly working our lures! And then they nail another Barra within minutes of the live mullet hitting the water, only to release it with a 7.5 double twist dive from high on the bank! After spending hours waiting for the tide to turn, we really got locked out of where we wanted to fish right at that critical tide change. Oh well, we had managed a few fish, even if it wasn't the big Barramundi.

Now late in the morning we headed to the freshwater to try our luck. I managed another couple of Rat Barra and a nice Sooty before we headed home with our tails between our legs!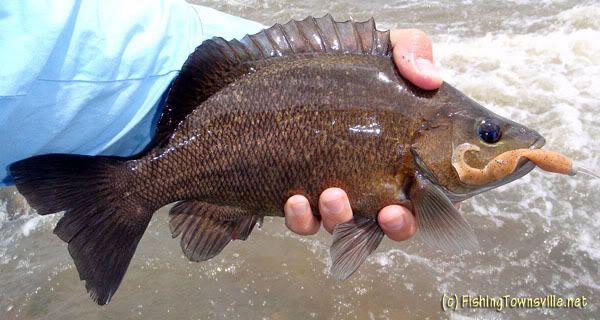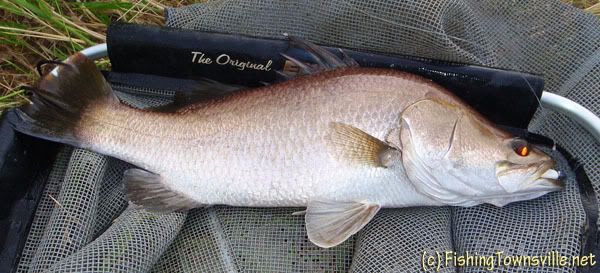 Till next weekend.....