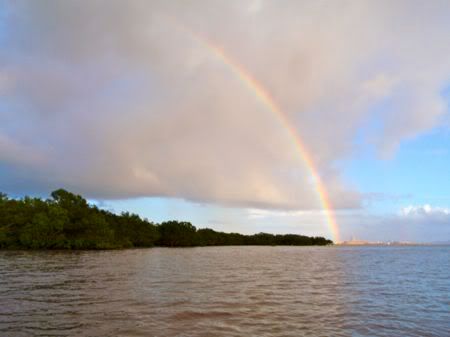 Dad and I spent yesterday (Saturday) morning investigating Gordon creek to the south of Townsville. We initially planned to head to Cocoa creek for a look around, but on advice from Graham at ProTacke it was decided the road in still be a little soft after the rain. I have been into Gordon creek once before in my old boat, and remembered the entrance being quite shallow, but a nice looking creek inside. So with a nice rising tide topping out late morning it seemed a good chance to get in and look around a bit.

We left the ramp in Ross River at about 6am and headed out the front and south. It was nice on the bay, just a light little breeze. We managed to negotiate our way into the creek pretty easily in the little boat, with no less than about 0.8m at the shallowest point.

Not knowing where the crabs would be at this stage, we decided to drop 4 pots a few hundred meters out the front of the creek, and 4 inside the mouth. We later discovered inside was far batter, and moved them all in.

We lured around the front and just inside for the best part of the morning. The tide was running in hard, but freshwater was running out on the top. Most of the bait and action we saw was around the convergence of the two. But fishing for us was poor! I think I managed one bump, but other than that we didn't manage a single hookup. The water was still very dirty, but I don't think that should have stopped them. Maybe too much run?

The tide turned pretty quick and coupled with the run of the fresh it belted out pretty hard. Coupled with a breeze in the bay that had picked up during the morning, the mouth was a quite messy getting out. 0.5-1m waves were picking up and curling over at their tops around the mouth. Interesting stuff in a 12foot tinnie! Coupled with the fact that a couple of our pots were in this slop, it was major pucker factor! But despite a little water over the nose we got out ok and headed for home with out tails between out legs!

Despite the poor fishing we took home 6 ripper crabs! One with claws that I reckon would take your hand off at the wrist!