Well the weekend just gone was the last Baptist Church club comp for the year. With only a few points separating myself, Dion and Ian for senior male for 2009 I determined to fish hard. Dad and I started Friday afternoon with a very quick trip after work into Ross River. We took Lachlan with us as he had been desperate to get out for a fish. Dad and I lucked out with just a few under size bream, but Lachy managed two keepers and a small cod.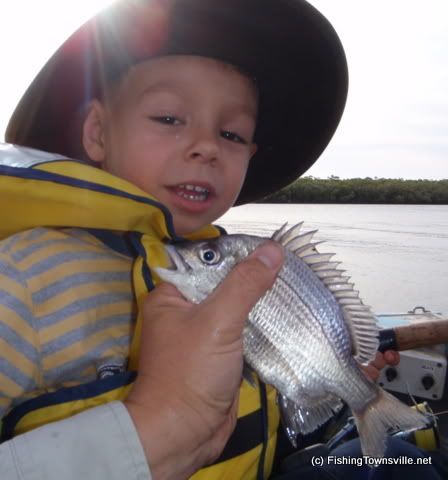 Saturday we were off to the Haughton for a serious fish. But despite working very hard all morning, and going through a lot of bait, we only managed a couple of bream each. My two were about 27cm fish, and would score ok, but were definitely not enough to secure any kind of win in the comp.

Lucky for me it was pretty tough going for everyone, and despite coming 4th overall for the weekend comp, Dion and Ian didn't manage too much either. So with any luck I have enough points to take out senior male. Lachy's little fish scored him enough to win sub-junior for the weekend, and a 0.9kg crab we caught got biggest muddie. Not too bad for a very slow weekend.