Update:12-1-11
The road to Cocoa creek is still passable and in good condition for 4wd owners.
Update:22-6-10
Here is a little video footage showing the current status of the road in. There are only one or two spots where clearance is needed. If you don't like my music then turn the volume down. Its better than my kids fighting in the back seat!
Update: 12-6-10
Some kind person has recently dropped a load of gravel/rock on one of the 'ramps' at Cocoa creek. This has made it substantially better for small boat access. It would be even better if a little more was added slightly lower on the tide.
Cocoa Creek is a small creek that empties into Cleaveland Bay just south of Townsville. It is very close, and provides easy access to, both Aligator and Crocodile Creeks.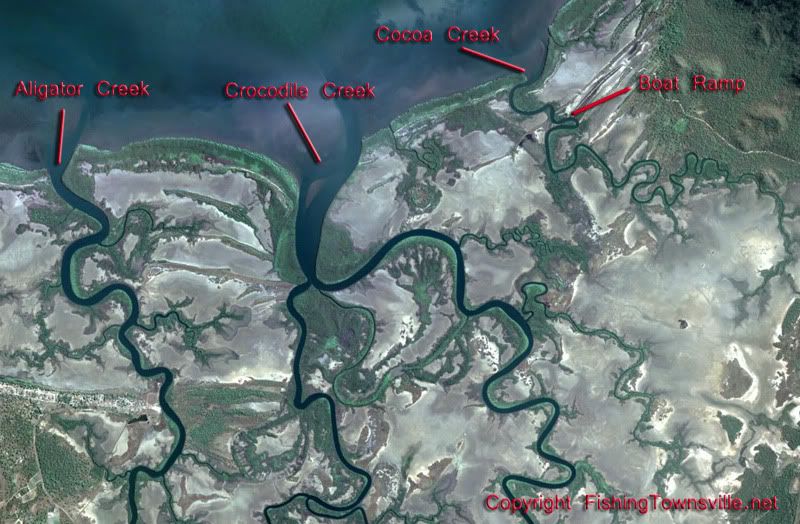 The creek is access be driving out the AIMS road. Not far short of AIMS is a dirt road to the left with a sign marked 'Cocoa Creek'. Its about 10mins on the dirt before the ramp is reached. There are several tracks that lead off the main dirt road, but keeping straight will get you to the ramp.
Cocoa Creek boat ramp is not really a ramp at all. Its very much a mud-slide into Cocoa Creek. In fact, there are a series of about 3 'slides', but the main one has some wooden 'runs' on it to help provide some traction. The ramp would be fairly easy to use on the top of a reasonable tide, but on the low tide you would be best winching or dragging the boat over the mud before attempting to get it on the trailer. The photographs here were taken on approximately 1.3m of tide.