With the big tides running this weekend, and me with not enough time to scratch myself, Dad and I decided on a quick trip with the tinnie into the freshwater of one of the rivers. It was a nice afternoon, but the fishing was slow.
We had the boat in the water about 2.30pm, and fished some snags quite close to the 'ramp'. But then we decided to go for a short run up-river. We ended up at a location I have fished and caught Barra from the bank in the past. With the boat I would have thought we were in with a real chance. But it wasn't to be.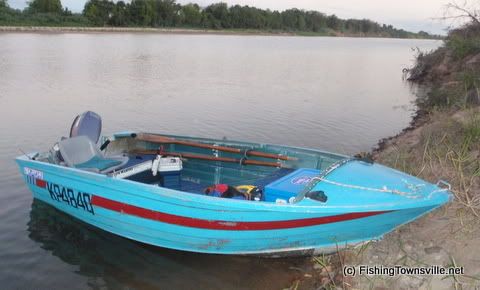 Dad landed one small fish, and I had a roll from what was probably an 80CM+ fish. But other than that, it was very quiet. We worked heaps of good looking timber in 3-4m of water, and eventually even tried a slow troll (something I hate) on the way back. But the fish just were not firing. I would like to try again after some rain and water is running a little.