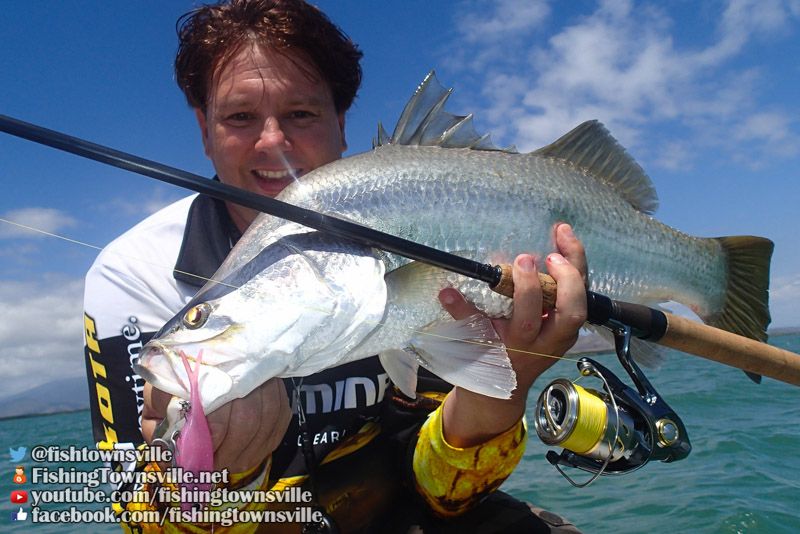 Friday was family fishing day. According to the weather man, this was the pick of the days to be on the water. Light 5-10knots winds were forecast and we planned to try a run to Maggie Shoals to chase some Spanish Mackerel and Nannygai. But with strong Northerly winds blowing late Thursday, I wasn't convinced we would wake to calm waters. When I woke at 4am, the Beauro was still showing a steady breeze. Preparing the rods for the day saw me placing 8 or 9 different outfits into the rod locker. I just wasn't sure where we would end up and what we would be chasing. Anything from Barra in the creeks to Marlin off the Cape was a possibility, just depended the weather. Even packed some old pillies and gar, just to cover all bases.
When we arrived at the ramp at 5am, there was definitely a light wind making its presence felt. We launched and began to run toward the shoals. But it was just too uncomfortable for an hour long run with two kids and a wife! So we decided to try the creeks and see what the weather did as the morning progressed. But the fish here just didn't want to play the game, so it didn't take long to make the decision to run to the Cape and investigate conditions out wide.
Initially we sounded around the inside of the Cape for anything interesting, but then poked our nose out the front for a look. As it happened, the swell was horrible, but the wind wasn't too bad. So I decided to wonder on over to a mark about 3km away. Even if we just did a few drops of some plastics for a Fingermark. At lease get a chance to see if things would settle.
We sounded around the mark and found a couple of really nice bommies that looked promising. Conditions made using the electric to anchor a little testing, with the odd wave making it over the bow of the boat. But once settled into position it was definitely fishable. It wasn't until now that I made Tania aware there was bait on board! Immediately I had to rig up a hook and sinker on the Stella 8000SW so she could investigate what was below. And it din't take long and she was pulling up fish after fish. Unfortunately, most were small or undesirable! But thats what you put up with when using bait ;-)
I continued to work the old faithful Threadybuster lure. Even in 16m of water, these lures get down quick and attract all sorts of attention. And spiced with a little S-factor makes them even more irresistible. This was also a great opportunity to put some turns on my Stella 4000SWB combo. This reel is loaded with 20lb Power Pro and sits on a T-Curve 701. Its a great soft plastics combo, but is more suited to offshore work and has not had a whole lot of use thus far. While the Thready didn't attract as many bites as the old stinky pillie, the fish that did hit the lure were of a better quality. I managed a couple of Nannygai and the biggest Grassy Sweetlip that I have ever seen. At 50cm I was hard to believe it wan't a Spangly.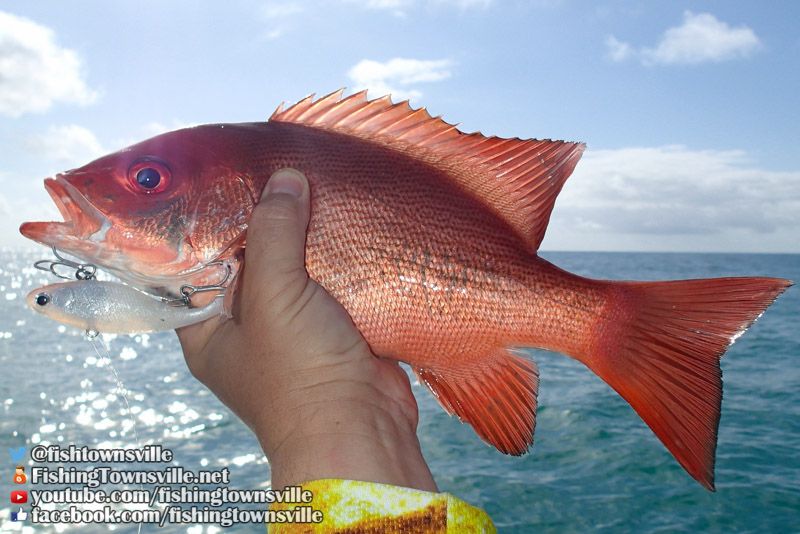 Conditions did slowly improve as the morning progressed, but not enough to tempt me to go further offshore. And by late morning the tide slowed and so did the bite. I made the decision to run back to the creeks to have one last go for a Barra on the falling tide.
Back in the bay and the pesky Northerly wind was starting to build. But I was determined to give the Barra a go. We spot-locked on the dropoff I wanted to fish, and a couple of Barra were showing on the Side Image of the Humminbird. It didn't take too many casts and a nice fish smashed the Threadybuster. This fish ran hard and had me all around the electric motor. Barra are not really well known as being a hard fighting fish for their size, but this one had my on edge the whole time. A couple of jumps and very tense moments and the fish was led into the waiting net. Dinner! At 65cm this was almost a carbon copy of the fish I landed just one day earlier. The kids were excited as, they just love fresh Barra fillets. And one of this size is just perfect to feed the four of us.
Lachy and I tried for another one for over half an hour. But it wasn't to be. The wind was now in the 15-20knot range and we had long run home. So we called it quits. Glad we did too, the run home was very wet!
The Minn Kota iPilot motors never cease to amaze me. The iPilot feature kept us dead on the mark all morning. And despite the breezy and sloppy conditions, the batteries were still showing almost full after the mornings fishing. If you are sick of anchoring and re-anchoring to postion your boat on small marks, do yourself a favour and get a Minn Kota iPilot. You will NEVER look back!