I spent all last week on a school camp and come Friday night, I was exhausted! I thought 'I'll get a good nights sleep tonight, and then be right to fish Sunday'. But at 5.30am Saturday morning, my boys had a different idea. But I wasn't going to let a lack sleep prevent me from one final fishing session before Barra season closes. So the alarm was set for 3.30am Sunday morning.
I met with a work mate from school and headed off to launch the boat at Ross River. It was a beautiful morning with a light land breeze. This gave a great run over to Crocodile creek, where we planned to spend the majority of the day.
Initially we tried a couple of spots in the channels of both Crocodile and Cocoa creeks, but the tide wasn't really big enough for these locations. So we soon made the long run right up the back of Crocky.
With hard bodied lures being relatively unsuccessful on the last trip up this way, I decided to drop back to the light Stella 1000 and some old faithful DOA prawns. And within the first 5mins I had hooked and landed the first Barra of the morning. Just a little rat, he got my hopes up for the day ahead.
It wasn't long after this fish a much larger lump of chrome followed my DOA to the boat and surprised me with a massive 'BOOF' just as I was about to lift the lure from the water! Unfortunately it failed to hookup, but the heart sure was racing.
But from here the fishing went incredibly quiet. For the remainder of the day all we managed was another rat, a couple of baby Jack and Cod or two. Very disappointing.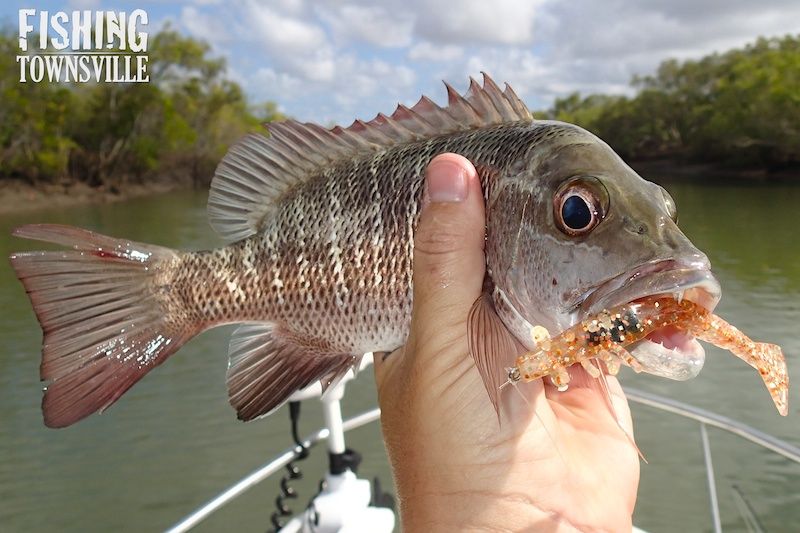 By lunchtime we had had enough and headed for home. One last stop at a spot out the front and we sounded up a good show of fish on the Humminbird 998 Side Image. But despite a bump or two on the Threadybusters, we just couldn't finish on a high!
So Barra season is finishing for me as a complete fizzer. Hopefully the mojo returns ready for the 1st Feb 2014. Time now to concentrate on some summer Fingermark.