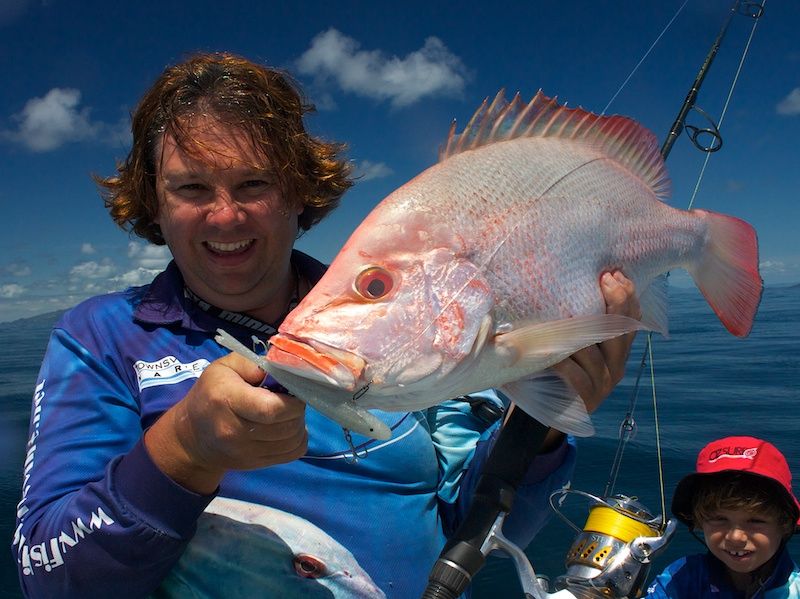 Following Mondays beautiful day on the water, Tuesday was predicted to be even better! And with most of Townsville back at work we figured the town ramps would be clear of traffic. I decided to take the family out to Maggie Shoals to check out my old Nannygai marks. Its been a while since I fished out this way, and I was looking forward to hitting marks I knew would hold fish.
We pulled up at the Coast Guard ramp just in time to see Ward and Richard move off in Wards Stacer. We headed off toward the shoals but soon hit a choppy breeze. Backed down to about 18knots we slowly made our way to the North Cardinal. As it turned out Ward was heading in the same direction as us, and had stopped off here too because of the slightly sloppy conditions. We said G'day as I 'spot-locked' the MinnKota just down current of the marker. I put down a Threadybuster on the 8lb Stella 1000 and was almost instantly snaffled up! A solid thumping bottom fish of some kind, maybe a Finger? But on the light line he soon found some structure.
We continued at the Cardinal for a bit, but soon decided it was calm enough to head wider to our origional target. It turned out to be a reasonable run at just over 20knots most of the way. The 485sf definitely rides well in small chop, and we easily maintained a faster and more comfortable ride than Wards Stacer.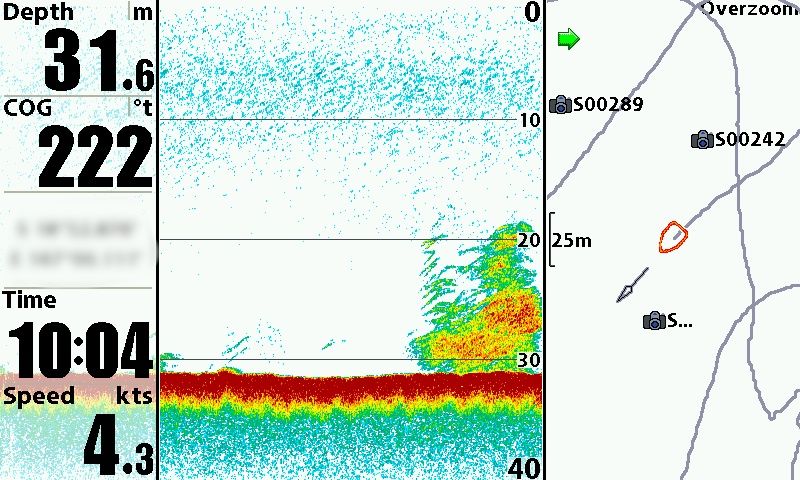 We pulled up on the mark I knew to hold good Nannygai and Spanish Mackerel. And instantly the sounder lit up with fish almost through the whole water column. A couple of metal slices were first to be sent to the bottom, and both hooked up first drop. But it turned out to be mainly Trevalley. But it was good to get the family pulling up some decent fish.
Ward soon joined us and he and Richard were quickly into them on fly. Wards fist fish was a decent looking Queenfish, and Richard placed a lovely Golden into the Eski.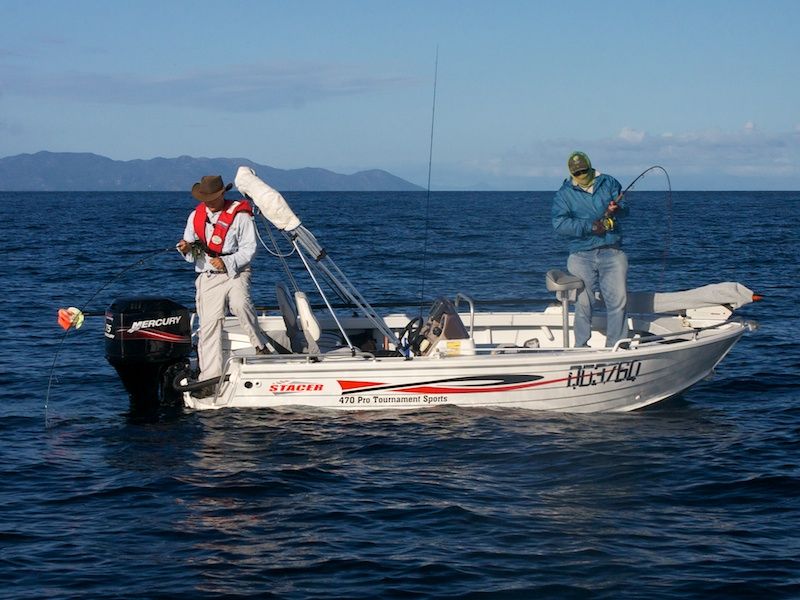 It didn't take long and sharks moved in. We then proceeded to loose every decent fish to either a shark or pulled hooks. Going hard on fish to avoid the sharks sure is tough on gear and angler!
After a while things went quiet, and it was time for a move. We headed wider to Shark Shoal, by now it was a millpond out there! But there was almost nothing showing on the mark, very unusual for this location. A bit of a hunt around found a couple of hits on the lures, but nothing substantial.
We then made our way back closer to the Shoals to look through a bunch of older Nannygai marks. Only one was showing a good school of fish holding close to the bottom. Spot-lock was again hit and a G.I.M.P lure was sent to the bottom. It was smashed big time as soon as it hit the bottom. A good solid fish that pulled hard as it desperately tried to hold onto the bottom. But it was no match for the 30lb Stella 8000! Soon a shadow of red came into view and the call of Nannygai was made. Tania grabbed then net and it lifted aboard. Dinner!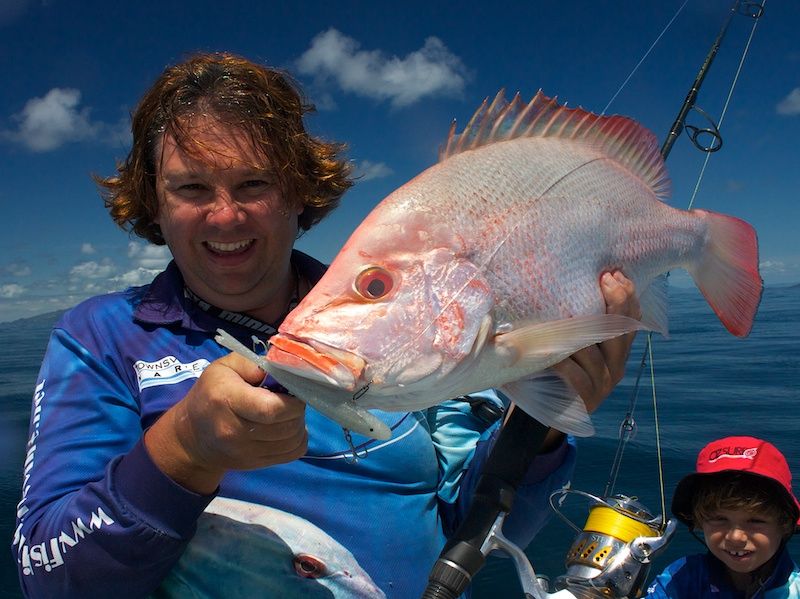 Next drop was Lachy with a G.I.M.P on the 30lb TwinPower 6000. The fish hit as the line was just getting in range of the bottom. I don't think the poor kid even knew the fish had taken his lure. Line was suddenly flying off the open reel and as I leaned over and flicked the Bail-arm into place the weight took up on the rod and almost pulled him over the side! But unfortunately he just couldn't hold it, and the fish soon buried into the structure. This seemed to put the fish off and the bite went quiet.
By mid afternoon it was still dead calm, and we were getting hot and tired. As this was our second day in a row on the water we were happy to call it quits and head home. A beautiful run home at 24knots with the Suzuki 80 sipping away at just 0.3lts per km.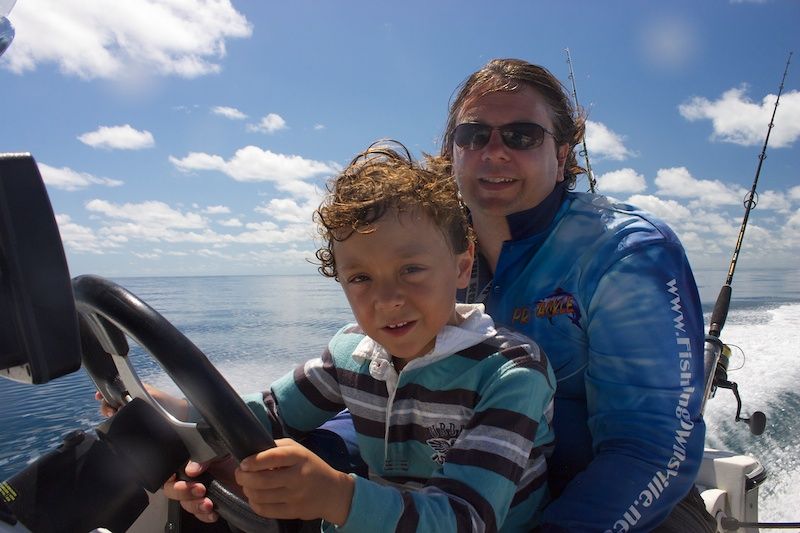 I continue to be very impressed with the usability of 'Spot-lock' on the MinnKota iPilots for offshore fishing. I have not used the anchor since owning this boat! It is just so easy to pull up on a mark, sound around under electric power, and then hold on the mark with the press of a button. This is especially useful on the very small marks that the Nannygai hold on. No more re-anchoring multiple times to get right on position. You can happily fish away with confidence that you are not going to move. And if the fish do move away, just pick up the remote and sound around until you find them again! So simple and effective. Purchase your MinnKota electric motor today at
Townsville Marine
.