Over the next few days Townsville will experience some very extreme
King Tides
. There are a few dangers associated with this tidal variance that some people may not be aware of. I would like the highlight a couple of things for those less experienced in the area. The following are the tide times and heights for the next few days. Taken from
BOM
.
Thursday 10th
1.32am 0.23m
8.04am 3.86m
2.41pm 0.89m
7.49pm 3.12m
Friday 11th
2.11am 0.12m
8.45am 4.00m
3.24pm 0.83m
8.36pm 3.16m
Saturday 12th
2.51am 0.13m
9.27pm 4.02m
4.09pm 0.85m
9.22pm 3.11m
Sunday 13th
3.31am 0.26m
10.09am 3.9m
4.55pm 0.95m
10.10pm 2.97m
The amount of run created in creek systems from a near 4m change of tide is very large. Systems like the Bohle, Haughton and Morriseys will run extremely hard and dirty during this time. Fishing any of the creeks will be difficult. Be prepared for the run!
Many of the ramps in the area will be useless at the times of extreme tide change. This is especially important during the early morning tide changes which are the larger. The low tides of 0.2m will render most ramps useless as the end of the ramp will be out of the water. The bottom of the ramps may also be very slippery, muddy and covered with algae as it is rarely exposed to the air. Also, on the 4m high tide, the water will come over the top of some of the ramps. Again, launching and retrieving at these times may be difficult and dangerous.
Be aware that the parking areas around many of the creek ramps may become inundated with water during the 4m morning high. This is a photograph of the Haughton river taken a few years ago on a 4m tide. The water just lapped the trailer tires of cars parked on the highest part of the car park. The photo was not taken at the peak of the tide!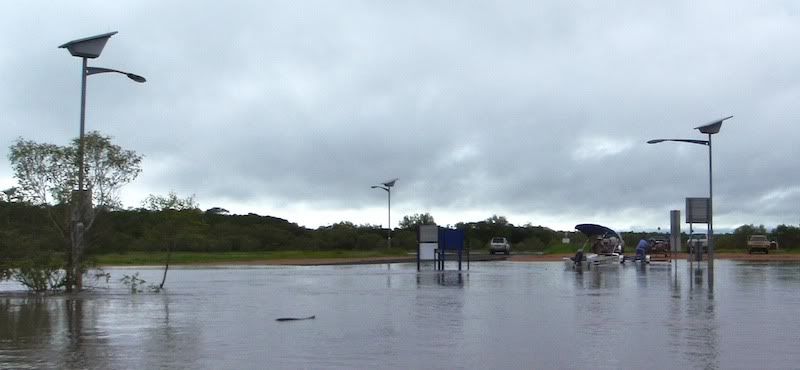 The roads in and out of some ramps will also go under water during the high tide. I believe the causeways on the road to Barattas will go under, the track into Doughboy goes under water at 3m and the road to the Haughton may also go under.
The extreme low tide will also create navigation hazards in many of the creeks. For example, the rockbar near the ramp at the Haughton may become a 'prop' hazard and the sandbar near the mouth of Burrumbush may become impassable. It will also be impossible to get back into Doughboy ramp at that time. Obviously most of the creek mouths will also be impassable. If you don't know the creek you are in very well, move around slowly and with caution around the low tide.
I don't think the afternoon tides will present as much of a problem. But please keep this information in mind and play it safe over the weekend. Even the main Coast Guard ramp will have its issues on the extreme low. Please send me an
email
if you have some important information on some of the other roads/ramp that you feel should be added or changed.