I have to admit to being really lazy over the school holiday and haven't written about any of the fishing expeditions I have been on. The odd photo has been up on the
Facebook
page, but nothing here. So here is a quick summary all in one post.
27/6/12
Took the family across to the Weedbeds to take advantage of the early morning calm weather. But the fishing was very quiet. We anchored and set up a burley trail, but only managed a ray and one bite off. We trolled for a bit and put a couple of small Doggies in the eski and released a ripper Golden that Lachlan caught. The calm weather didn't last long and we were heading back in about 10am. On the was in we had the pleasure of watching one of the race boats do a run to Palleranda and back and then get pulled out of the water right in front of us!
29/6/12
The wind was supposed to come down on this particular day, and with so many small Black Marlin being caught down in Bowling Green Bay we decided to give the Billfish thing a go. Plan was to head to the Mackerel Patch at first light and chase some Spaniards before beginning a troll south. But as we cleared the Cape it was apparent the wind wasn't dropping! We persevered and made it to the Mackerel Patch, down to about 17knots to get there! But it wasn't worth the run. There was no bait and no fish to be seen! We trolled around with half a dozen other boats for about an hour, but it was sloppy and very uncomfortable. And none of the other boats looked to be doing much either. Luckily I had run over a couple of bait balls on the bottom on our way out. The Humminbird 998 SI is very good at picking up the bottom while traveling at speed. I had marked them for a later look, but didn't expect that later look to be today! So we went back and found huge schools of fish on the sounder. For the rest of the morning we drifted the area with high speed metal slices and put all sorts of fish in the boat. Several 65cm plus Doggie Mackerel were probably the highlight.
The following sounder shots from the Humminbird 998 show what was picked up at speed, and what was discovered when we returned later.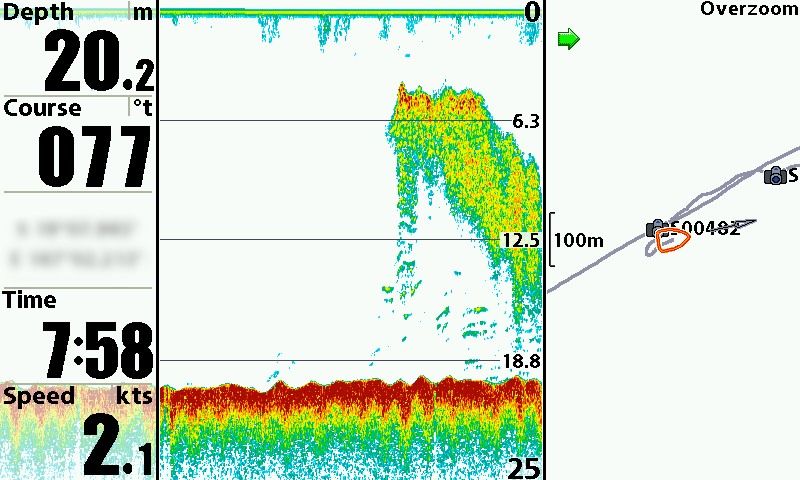 30/6/12
The tides looked really good for a trip up to Hinchinbrook to chase some big Barra. So Jake and I decided to take the tinnie up to Fishers Creek and investigate some drain fishing. We found the Barra crashing the bait, but they just didn't want any part of what we were offering. The tide soon dropped out and we then struggled to find suitable structure still in the water. It was a tough day, but eventually Jake managed to snare a good fish on the fly rod. At 68cm it is his best Barra on fly to date.
2/7/12
Yep, only 2 days later and we were back at it! After sleeping in Sunday I was pumped for another lure casting session on the show day Monday. Jake offered to take his car and boat this time and we were off to the Haughton. The tide was big and the water was cold, we would have been happy to catch one each. But we managed to put away a very good session with over 20 Barramundi landed for the morning. The best fish of the day was Jake's at 79cm, and my biggest went 69cm.
Most of my fish fell to Ben Jones' locally made
Jelly Prawn
. But Jake found great success with the good old DOA prawn.
4/7/12
With the success from the Haughton a few days earlier I decided to take Tania and the kids for a run to see if I could get them onto a lure caught Barra. But despite better tides the water temp had plummeted. Even though the water was down to 17 degrees, I still managed to boat 4 Barra to 62cm and missed a couple more. Again the
Jelly Prawn
lure was doing the job in tough conditions.
So all in all it was a great school holiday for myself and the family. Plenty of trips on the water and some nice fish caught by all. Bring on the next holidays I say!