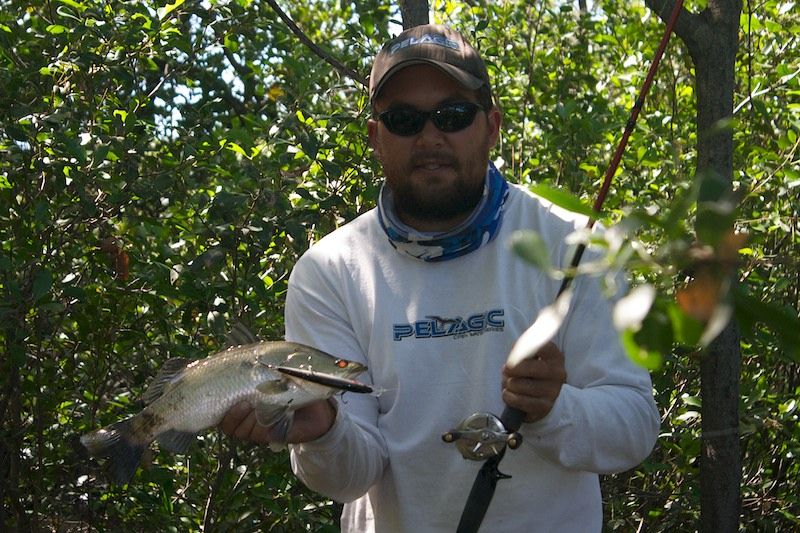 Last weekend was the
Townsville Game Fishing Club
anual Predators Competition. Jake and I entered, and with poor weather forecast, decided to tackle the larger tides of the creek. We had a great plan to find fish early on the Saturday morning tide in the Haughton, but it just didn't work out. It was a very disappointing session, and despite finding relatively clean water in several locations, only a handfull or Rat Barra were landed.
So for day two a complete change of scenery was needed. For a while we tossed around the idea of battling sloppy seas and heading out for a Spanish Mackerel. But a 'left of centre' idea saw us heading well upstream of a smaller creek to chase Jacks on surface lures. While it was my idea, Jake quickly jumped at the chance as he has considerable experience in this type of fishing.
A slightly later start than normal had us heading off about 6am. And with the wind rustling the trees at my place, I'm glad we decided to stay in the creek. We had a pretty good session, boating a good dozen or more Jacks by lunchtime. Jakes experience really showed here, with the vast majority of the fish taking his well presented surface lures. But I soon got the hang of the technique and landed a couple of decent fish pushing 40cm. A lot of the Jacks were under the 35cm legal size, but we did land a couple of solid specimens, and got dusted by fish well over 40cm. It was very exciting fishing and, according to Jake, was a "pretty slow morning"! I can't wait to go there again on a good day...
Here is a bit of video from the session. A full report of the Predators Competition will be up in the next few days.