Yesterday I was given the chance to test out a Quintrex Renegade 520 for
Townsville Marine
. This boat is fitted out with a Suzuki DF90A. A full review will be published in the next few days, but I will say this for now. If you are one the many people interested in a good 'all rounder' for both creek and offshore work, then this might just be the boat for you!
Not being one to pass up an opportunity for a fish, it was a given that the rods and reels would be accompanying my on the test! The boat is well suited to lure fishing around the inshore islands and reef, so that became the plan. Armed with a handful of soft plastics Dad and I headed off to West Point to chase some Fingermark. This was also a great chance to test out the new range of
Gulp Squid Vicious
plastics that
ProTackle
now has in stock. These plastics have 3 'arms' hanging of the back and do resemble a squid in the water. Perfect for fingers!
I picked up Dad early and we hit the ramp pretty close to 4.30am. The first stop was a mark between West Point and Palleranda. Its only 5m deep and best hit early before too much traffic is on the water. As it was still dark I started with a glow in the dark Gulp Grub, and it only took a few drifts to have a small Nannygai on board and a couple of solid hits that failed to hook up. It was clear the glow made a difference as Dad failed to attract any attention on his standard Grub. But as the sun came up the fish disappeared from the mark, so we headed to West Point.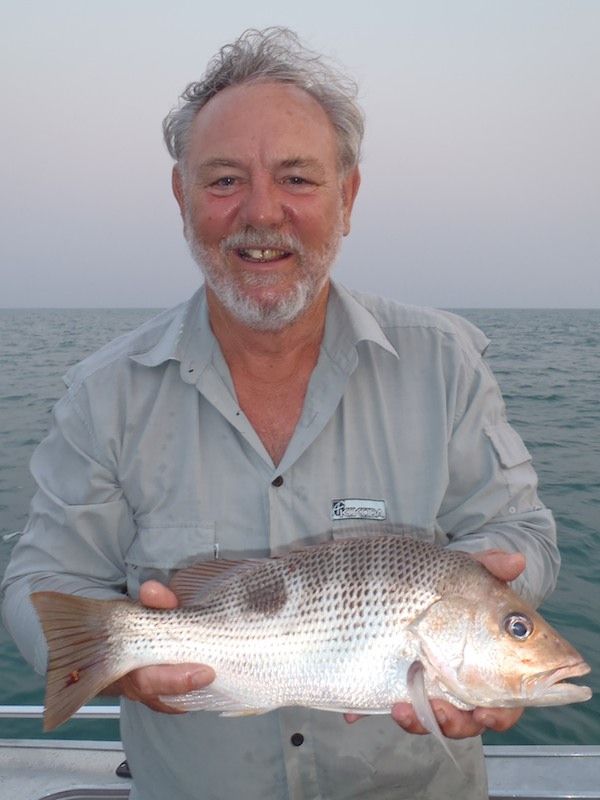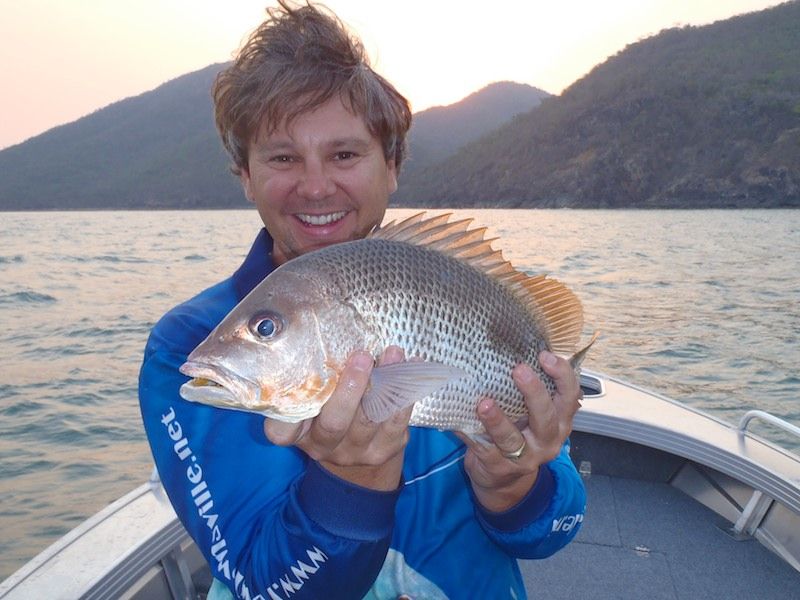 I have dozens of small marks for this area, and throughout the morning we hit almost all of them! Again we started early in the shallower marks and moved to deeper water as the sun rose. It was here that we changed over to the Squid Vicious, and it was a good move. Dad was first to hook up, landing a nice little Finger about 45cm. I followed suit with a fish of similar size. While somewhat disappointed in the size, we were elated by our early success on the new plastics. These were proving to be a top little lure.
A few drifts later and I hooked onto something much better! It pulled 50lb from the Stella no worries at all. But heading away from the boat and structure it didn't appear to be a Fingermark. Soon a big Queenfish burst clear of the water. This was a good fish and took a fair effort to bring under control, despite the very heavy gear! But he was soon in the net, another victim to the the Squid imitation Berkley. A quick pick and this one was released to fight another day.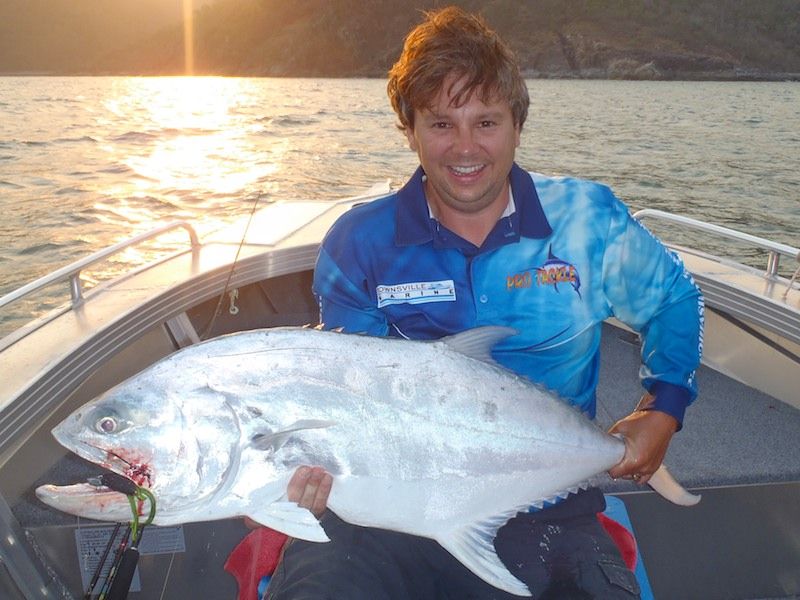 A couple more drifts on this mark and Dad was nailed by a big fish. Again pulling 50lb from the reel with ease. But this one knew where he was going, straight to structure! I think this was the big Fingermark we were looking for. I keep hearing about that one for the rest of the day!! After this the fish on this mark went quiet. Quite possibly due to the lost fish. So it was time to move on.
We looked at a few marks that had very little showing on them. We managed a small Nannygai or two, but needed to find a better show of fish. We then moved to one of my favourite Fingermark spots in about 10m of water. And it didn't disappoint. I hooked up first, and it was clearly a better fish. Still not the monster we were looking for, but a more respectable catch. Then Dad followed with a similar sized fish, and then one just a bit smaller.
We now had 5 Fingermark in the eski and felt pretty good. The weather was starting to improve, and we decided to take the boat for a bit of a run further offshore. We had to get some better fuel consumption figures at least ;-). So we headed first to Bay Rock and then off to Burdekin Rock. Nothing was biting at either for us, so we headed wider into 20m of water for a look. But despite looking at several more marks we didn't see another fish.
Back at the ramp just after lunch we were quite happy with our successes. I can see us spending a lot more time chasing these Golden fish, especially when the closed season on Barra starts!