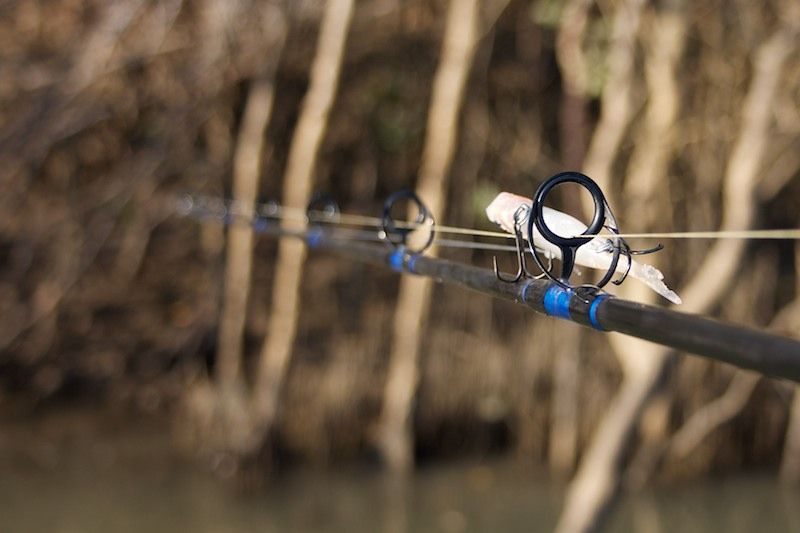 We are lucky enough on the
forum
to have our very own custom rod builder. Ashley, known on the forum as
Bundybear
, has been a member of the forum since 2009. In that time Ash has built many rods for our members at a very reasonable price. He has provided advice to members on rod choices and rod repairs, and has even run tutorial sessions for those interested in learning the basics of the art. When it came time for me to put together a high quality bait cast rod for working the snags for Barra,
Bundybear
was the obvious choice!
I sent Ash a PM on the forum and was keen to put something together for me. I was pretty vague with my requirements, something short, powerful and incredibly light! It was to be used with a low profile style bait caster reel and 30lb braid, a monster stopper! The short length was for tight casting around snags from a small boat and it had to be as light as possible to use comfortably all day. Armed with an idea of what I was after Ash soon ordered in a blank from the New Zealand company
Composite Tube Systems
. All CTS blanks are made at CTS's high tech facility in Auckland. As a boutique manufacturer of blanks, the production runs are small and design modifications are frequent. This ensures the latest materials and developments are included in each successive blank run.
The blank chosen was an
Elite MagSpin ES566
. The Elite MagSpin series is the latest iteration of a long history of CTS's light weight lure fishing blanks dating back to 2001. According to Stephen Pratt from CTS "The Elite MagSpin series now boasts our Modulus Replacement Technology 'MRT'. This new style of layup completely isolates the material in the tip with the material in the butt". This system allows CTS to place high strength carbon in the tip area and high stiffness carbon in the butt section. The result is a narrower blank profile and construction that is around 15% lighter than conventional layup techniques while maximising durability through the tip area. "Of course this series includes CTS's trademark variable helix technology which varies the hoop strength of the blank from tip to butt ensuring that the blank maintains its cross sectional shape under heavy loading maintaining maximum power and response" says Stephen. The blank is 5'6" in length and rated as a 12-25lb stick.
The specifications sounded ideal for what I was after, and when it arrived in Australia Ashley put it on the scales. Just 56grams! He then got to work fitting nothing but the best Fuji components and high quality cork. I stayed with some basic 'safe' colours, but Ashley dressed it up with beautiful copper trims and a custom turned Red Cedar butt cap! He even embedded a Tanzanian 5c coin into the butt, this has a jumping 'sailfish' on back of the coin that really personalises such a rod. You just can't get quality and customisation like that off the shelf!
With all the trimmings the complete rod came in a little heavier than anticipated at 140g. But its still incredibly light in the hand for a rod of this caliber. When I first picked the rod up from Ash's house I was a little surprised at the 'stiffness' of the blank. For a rod rated 12-25lb it sure is solid! I had been tossing up between 20lb and 30lb braid for the new reel, but after feeling the rod I decided to stay with 30. It's capable of this an more if you so desired. I was then a little concerned about the accuracy of the casting with the rod having such little give in the tip. But these concerns were soon put to rest as I flicked a little weight around the back yard at various targets. The rod is still very capable of tossing even light lures such as the 4in prongs with accuracy, distance and ease. Having said this, CTS do make a slightly lighter 10-20lb blank that Ashley has now built several rods on. He feels its a better blank for pure lure casting on 20lb braid. But the 12-25lb is a good rod for a combination of casting and trolling with 30lb for bigger fish. If, for example, you fish impoundments for big Barra then this rod is probably capable of running even 50lb with a bit of care.
I have now been using the rod for several months, but have unfortunately struggled to connect to a really big fish in that time. Matched with a light low profile, reel such at the Shimano
Chronarch
, it's very comfortable for a full days lure casting. My best fish to date is a Hinchinbrook Barramundi in the 70cm range. But it doesn't take long to realise that this stick has the power to handle very big 1m+ fish. I just need to the chance to try it out! The butt section of the rod has a lot of power, and the tip folds away nicely when a decent fish pulls hard against the 30lb braid. A little flick of the wrist see's even light lures like the Flat Ratz cast with ease. Especially when working in close around the timber.
Ashley's workmanship on the bindings is second to none, and I have no problem recommending him for custom rods or simple guide replacements. In fact, he is now doing the rod repairs for
Pro Tackle
. Ash builds rods for a hobby, not a living. So his prices are unbelievable for a fully custom rod. You might be surprised how close he can get to a good quality off the shelf job! So if you have ever thought about having a custom rod built for just about any fishing purpose from Bream and Bass to heavy tackle Marlin, give Ash a call and discuss some ideas. He is very passionate, and will at the very least give some good free advice.
Specifications
Blank
:
CTS ES566 (12-25lb 1pc, 16-35g lure, Power=heavy Action=Extra fast)
Guides
:
Fuji BMNAG 25,16,12,10,10,8,8
Tip
:
Fuji TFST 8 Seat: Fuji ACS
Trigger Grips
:
Custom (exposed blank) AAAA
Cork Butt Cap
:
Custom Red Cedar (Tanzanian 5 cent insert)
Thread
:
Gudebrod dark Blue, Black over with Sulky Holoshimmer copper trims
Cost of rod: $400
If you are interested in having a custom rod built by Ashley he can be contacted via PM on the
forum
or by the details below.
Mobile: 0412334601
email:
mullet13@westnet.com.au