A few weeks ago forum member and GandT Fishing School
proprietor Graham Knight (
Knighty
) placed a post onto the
Fishing Townsville Forum
for any info on a cheap tinnie that might be available somewhere around town. The request was for a young 12yo kid from Giru named Blake who had had his boat stolen just days after purchasing it! When members learned the very keen young bloke had save up the money himself, they decided not only to point Graham in the direction of the right boat...but to take up a collection to raise the finds too!
Within a very short period of time several members had made donations of both cash and goods to get the young fella back on the water.
Pommyupnorth
organised some safety gear, All Aussie Shock Leaders
Phil Lawlor
donated a custom rod, local rod builder
Bundybear
also donated a custom rod,
Paddles
organised a brand new 100amp deep cycle battery thanks to
Exide Batteries
and
bob000
dropped in a little 30lb minn kota!
ProTackle
got involved with a $100 gift voucher and several other members threw money into the kitty. (
If I missed anyone please let me know and I will rectify
!)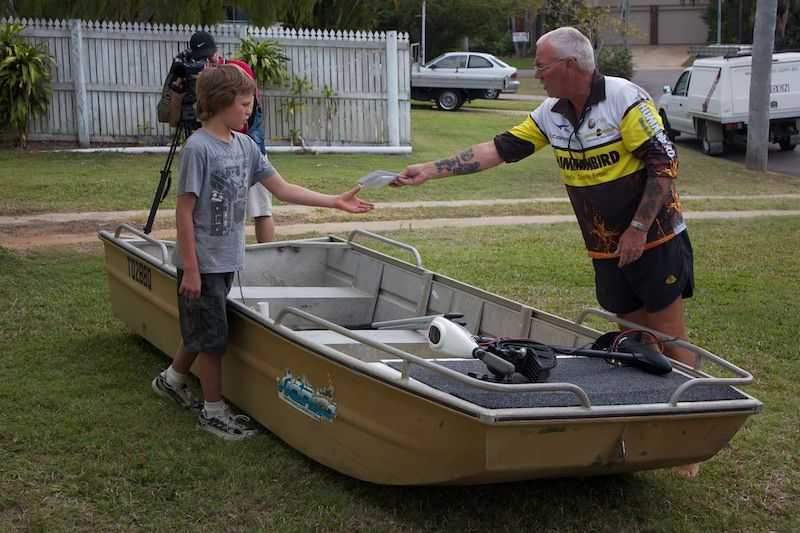 The end result was all presented to the young bloke on Sunday afternoon with a thankyou BBQ and drinks at Graham's place. The family was incredibly grateful and young Blake now has a big smile back on his face! What started off as a simple request for info on where to find a cheap seconhand boat turned into a wonderful community spirit story. All thanks to the friendly members we have on the
Fishing Townsville Forum
.

And a big thanks (I think ... lol) to Pommyupnorth for organising the Channel 7 News crew!