Weather again prevents the bigger boats from comfortably fishing the blue water this weekend. But that doesn't seem to matter as there have been reports of quality Barramundi coming from just about every local creek. So Dad and I spent yesterday morning chasing them down at Morrissey's. Its been a long time since I had a boat in that particular creek, and after re-visiting yesterday I think I'll be spending a little more time in there. Its a lovely big creek with lots of drains and snags. Its deep throughout the entire system making navigating even larger creek boats very easy. And the fishing isn't too bad either!
We headed off early, well aware its almost an hours drive to the ramp. Sunrise was 6am, but we launched on first light about 5.30. Initially we headed well upstream into where the fresh is still running off the flood planes and into the main creek. The water was dirty from the fresh, but visibility was still ok for lure casting. There is a lot of bait in the top sections of the creek. Heaps of jelly prawn and a stack of mullet. But to our surprise fishing was a lot quieter than we would have anticipated.
It was a ridiculous number of casts before we had our first strike. Dad had put his lure right into one of those spots that 'just had to have a fish'. And wack, he was on. For small fish he sure did go hard, looked a stick just sticking out of the water and then took of for our electric. But he didn't stand a chance agains the 20lb braid and was soon netted, photographed and released.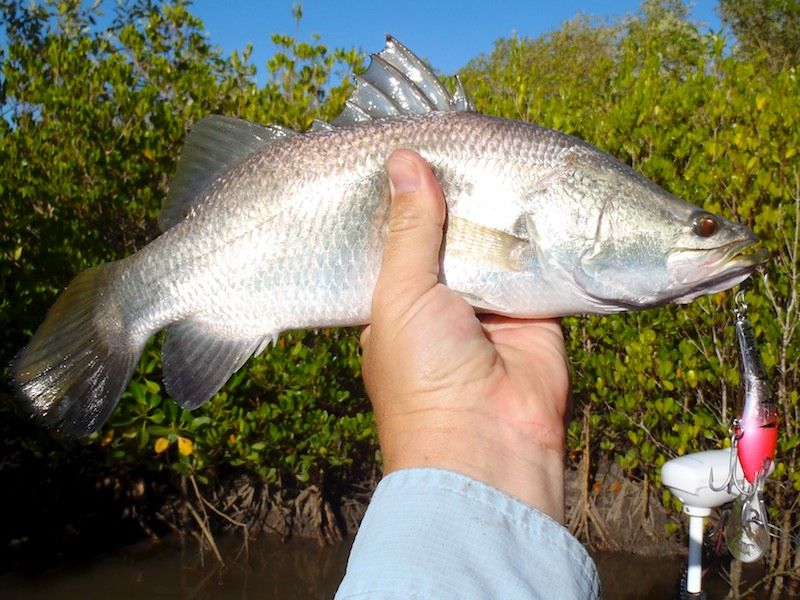 Dad also took second strike a short time later, but despite having two goes at the lure it didn't stay connected. We then moved even further upstream to a series of gutters. I put a cast into one that looked very fishy and was almost immediately hooked up. The fish tried to head for cover and I applied some firm thumb pressure to the Chronarch and 30lb Power Pro. But the hooks pulled. This was a good fish, and on closer inspection of the lure I had managed to straighten one of the VMC 6X trebles! A second cast back into the same spot and I was hooked up again. Expecting another good fish I hit the breaks hard and just about pulled the little Barra straight into the boat! Not quite of the same calibre as the first fish it was photographed and released.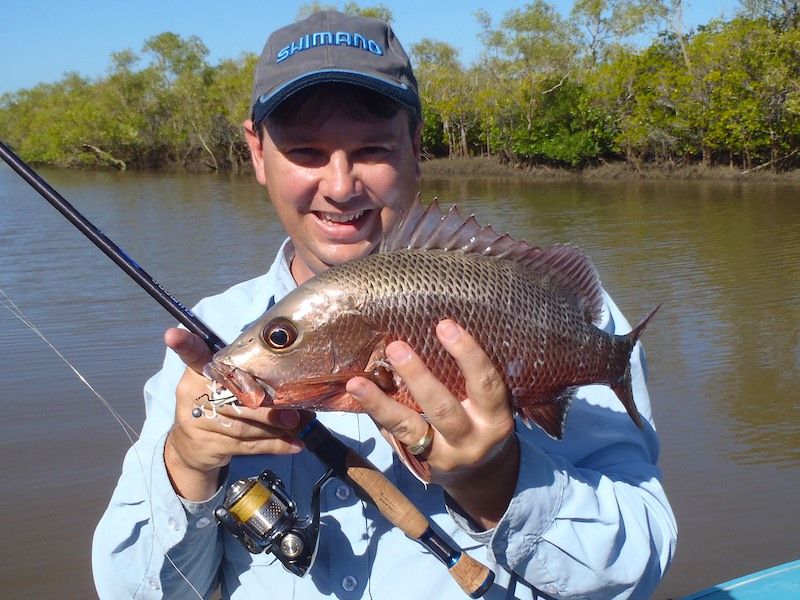 Things then went VERY quite. We had been throwing Flatz Rat lures all morning and I was starting to get a little frustrated at the lack of attention. So I decided to change over to the lighter Stella and a 3in Prong. I had only made a few casts with it when a good fish hit and raced off. Expecting a rat barra I held the spool right on the limit of the 8lb Power Pro and led the fish clear of the snags. But when the fish surfaced it was no Barra, it was a nice Mangrove Jack. At 38cm it was good to put a fish in the eski finally.
A few cast later I was on again, this one 41cm. And then came one at 42cm. Those Jacks sure do like the Prongs.
We then decided to head back to the mouth area for a look around before finally heading home. Despite only a small tide change, the water was running out quite hard. So we found a nice set of snags in deep water out of the main current flow. I stayed with the Prong and Dad keep up with the HB lures. It didn't take long and I had my first hookup, but he buried me into the snags pretty quickly. One of down sides of fishing light line in the snags. A bit further along the bank and I was pulling the prong high in the water over a snag when a pair of rat barra surfaced and one managed to grab the prong and hook up. A few casts later and another rat barra took the prong from the mouth of a drain.
It had been a difficult morning, plenty of casts between fish. But we managed to put together a reasonable catch by the end of the morning. No big barra landed today, but they are there!