This weekend was the Baptist Church Fishing Club monthly competition. The competition always runs on the Friday and Saturday with a BBQ weigh-in Saturday afternoon. But usually work prevents us from fishing on the Friday. But this weekend happened to fall inside school holiday time, so we had both days to look hard for our 5 fish.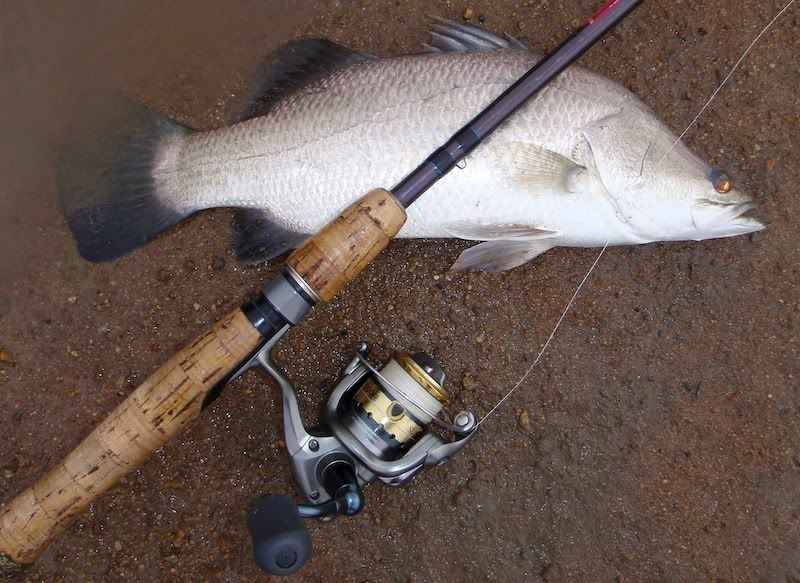 Initial plans were upset by the poor weather, so while the kids and Tania went off to the movies to see Toy Story 2, Dad and I headed into the upper reaches of one of the local rivers to flick around some plastics. It was the right part of the tide, last of the outgoing, but it was 10:30 before we began fishing. So not the best time of day! It was tough work with Dad landing an undersize Bream and very small Flathead. I managed 1 rat Barra and that was it. We had managed a couple of nice Flathead here not long ago, so were disappointed in our results.
That afternoon I took Tania and the kids into Ross River for an afternoon fish from the tinnie. We didn't fish for long, but managed to keep amused with a few undersize Bream, Mangrove Jack and Estuary Cod. Best fish was a 34cm Jack. All the fish fell to half pillies fishing on small lightly weighted hooks. There are generally plenty of bites to keep the kids amused, but on this occasion nothing keepable made it to the eski.
By Saturday morning we were getting desperate! So a last minute decision was made to shoot back up to Lucinda where Christian and I had done brilliantly just a few days earlier. The tide would be a little different, high later in the morning and overall a much bigger run. But how could we go wrong?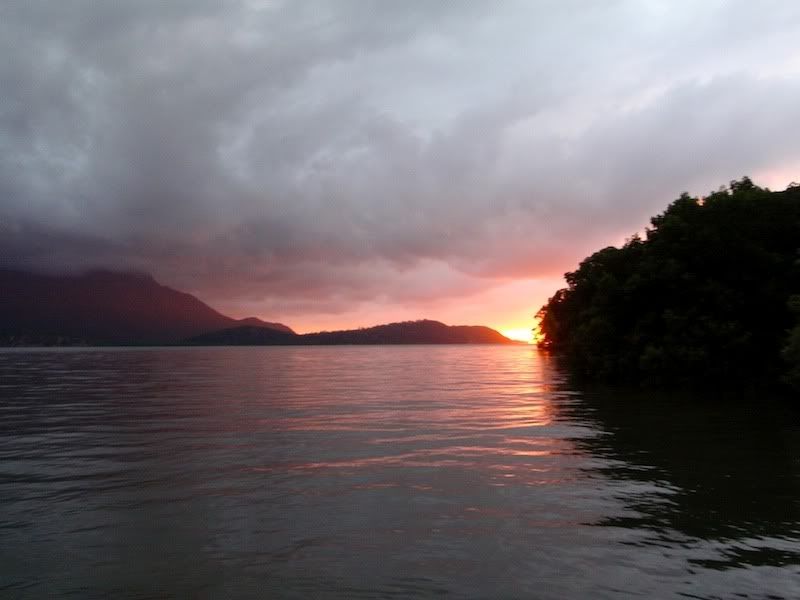 We left home at 4.30am which got us to the ramp and ready to roll by 6am. Perfect timing. The tide was indeed much higher than earlier in the week, with the snags totally covered by water. This, coupled with a strong breeze, made it impossible to find those sticks and logs that were the key to success. So we began by fishing a flat along the edge of the mangroves. This at least gave us some structure to concentrate around. The bait was present, but fish were hard to tempt. I managed 1 65cm flathead after hundreds of casts. But it was the only fish we would pull from this area.
Eventually tide turned and water dropped enough to spot the snags up on the flats. But the water was racing! We stuck at it, moving from log to log, and before we knew it there was barely enough water to motor through and we had to get off! Compared to earlier in the week the window we were presented with was much smaller. I managed one more flathead, but not as big as the first.
We then moved back into the river and fished some back water to the sand bars. Dad hooked up a small barra that threw the hooks on its first jump. On the edge of some fast running water we found a small school of queenfish and trevally feeding. However, while they presented some action on an otherwise quiet day, they were not big fish.
If we were going to make the BBQ we would have to get going. So by 3pm we headed for home. It appears the neaper tides may be better for this type of fishing? Good excuse to get up and try again soon.