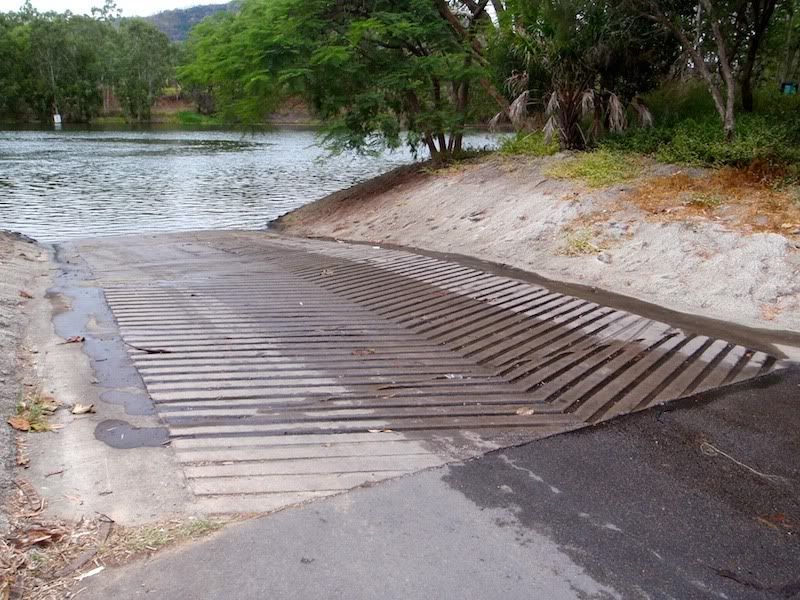 The Loam Island boat ramp is a single lane concrete ramp that gives good easy access to the top weir of the freshwater section of Ross River. The ramp is primarily used by ski boats, but is completely open to the public. From the ramp you can access any of the weir from below the dam wall down to Black's weir that runs across from the Riverside Tavern to the Weir State School. However, while construction is occurring on the bridge upgrade, boats cannot move downstream past the highway bridge.
There is a large section of river that is sign-posted 6knots. This runs from the ramp upstream past the housing. So watch your speed and be prepared for a slow journey!
Other than an under cover eating area there are no facilities at the ramp, not even a toilet. However, parking is adequate for the number of people who use the ramp. Being fresh water there is not tide to worry about, but there are gates at the top of the ramp that are closed during times of flood. There are no security cameras for the parking area, and I did see a burned out car there only a little while ago. So I would be wary about leaving my car there late at night. But there are usually plenty of people around during daylight hours.
There is no pontoon available at the ramp. However, if you were inclined to put in a large fibreglass boat, there is a nice beach section just 50m upstream (or along the dirt track by car) that could be used to pick up passengers.
The road in is one way, so you have to exit via a dirt track that brings you back to the main road. This is shown in the video below.
This short video shows where to turn off from Upper Ross River road, and the one way dirt track that brings you to the beach and back to the main road.