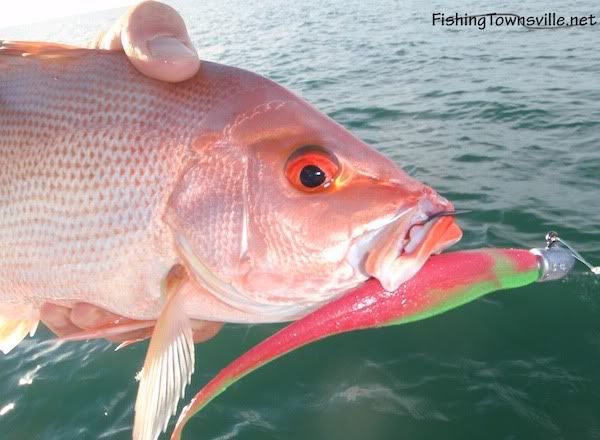 My weekends fishing antics began Friday afternoon with Dad. We chased up some live mullet and headed of for West Point in his boat. We wanted to fish the eventing for some Fingermark. But despite everything going quite well for us, we came home empty handed. And when I say everything went well, I mean the tide was perfect, weather was just right, we had heaps of live mullet, we anchored smack bang on the mark first go and we got heaps of live squid after dark. Best we managed was a heap of under size Nannygai and I had one run from a suspected Fingermark.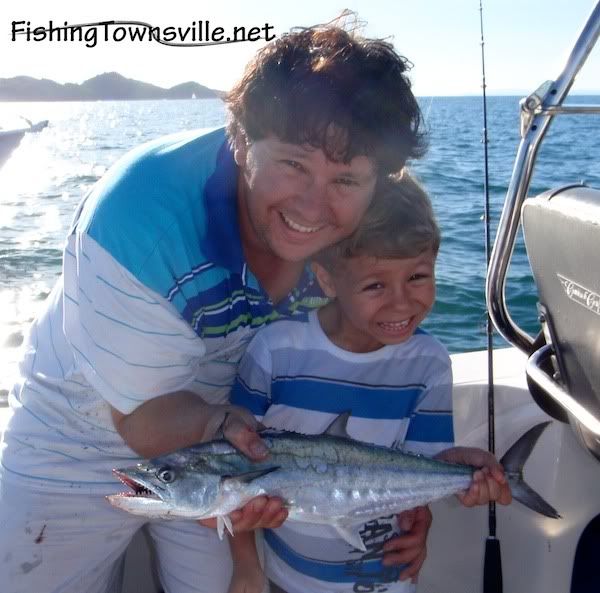 Next day and it was family time. Tania and I set off with the kids in my boat just after lunch. The plan was to play around the shipping channel until dark, and then head into Horseshoe bay for the night. There was plenty of live bait around the mark, but Tania couldn't get any to go the jig. I had a follow from a big Queenfish on my first few casts of a metal slice, but that was the last we saw of him. We did later manage 3 nice doggie mackerel on the slices. But we gave up and headed for the Island before it got dark.
Next morning I was up at 4.30am with the intention of chasing some Nannygai before the sun came up. We were slowed down for a few minutes when I picked up some plastic on the prop, but it was cleared quickly and easily. On arrival at my favorite Nanny marks NOTHING was showing on the sounder! I sounded around 3 or 4 close by marks and nothing was on any of them. I didn't even drop a bait, time to go wider.

Light from the sun was starting to just poke through as I arrived on this spot. Two other boats were already anchored, but I have plenty of 'patches' here, so it was just a matter of spending the time to sound out where the fish were. It didn't take long and we were soon pulling up some nice fish. As we repeatedly drifted the mark we slowly filled the eski with fish. In all we bagged 8 Nannygai, most in the 3kg range but two good fish around the 6-7kg mark were also landed. More boats began to arrive, and we were soon surrounded by about 9 boats. All chose to anchor, but none interfered with our drift too much and all boat played a friendly game and got along well. One boat did anchor pretty close to the are we were working, but they didn't mind us drifting by pretty close. Good to see everyone able to fish an area and get along. We also managed some Trevally and a Spanish Mackerel.

Dad was not doing as well at his chosen location, so he came and replaced our drift while we went to investigate some other marks. We didn't do as well here, but managed a big Golden than was released as well as a few tuna for the kids to play around with.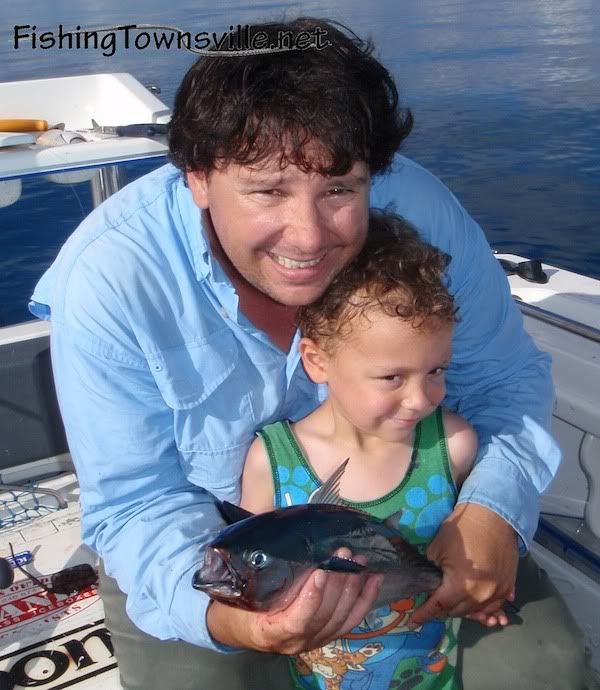 We then headed to the Shark hole to try for some Spaniards. Fish were there, but getting them in was impossible. As usual, the sharks were on the fish pretty quickly. Best we could manage was one Mackerel with a bide out of the side! Oh well, close enough. Time for home.

We called into Nelly Bay for some Cold Rock and then headed home to fillet fish. Great weekend of fishing.