Well the last two weekends in a row have had light winds forecast that did not eventuate. Northerly winds and Townsville do not go well together! The Cleveland Bay actually faces more North than East, providing little protection from those Northerly winds. Both last Sunday and yesterday I had planned to get out into Halifax Bay and wide of Rattlesnake to chase some bigger offshore fish. But both times the wind at the mouth of the harbour has kept us in close. Apparently wide of the island conditions have been much better, but its a long hard slog through the chop to find out. Especially with the kids on board. But we have still managed to get in a couple of good sessions on smaller fish in the bay.
Last Sunday I had Tania and the kids on the water and we managed to put together a good back of solid Blue Salmon. The biggest of which went 76cm. We also managed the usually assortment of smaller Trevalley and Grunter. The majority of the fish fell victim to the trusty Threadybuster soft vibe, though I did have the kids flicking around a Gulp Prawn on a small jig head for a while. Two other silver fish in the mid 60's rage were caught and released, including one Sebastian caught all on his own. This makes Sebastian's first at a legal size.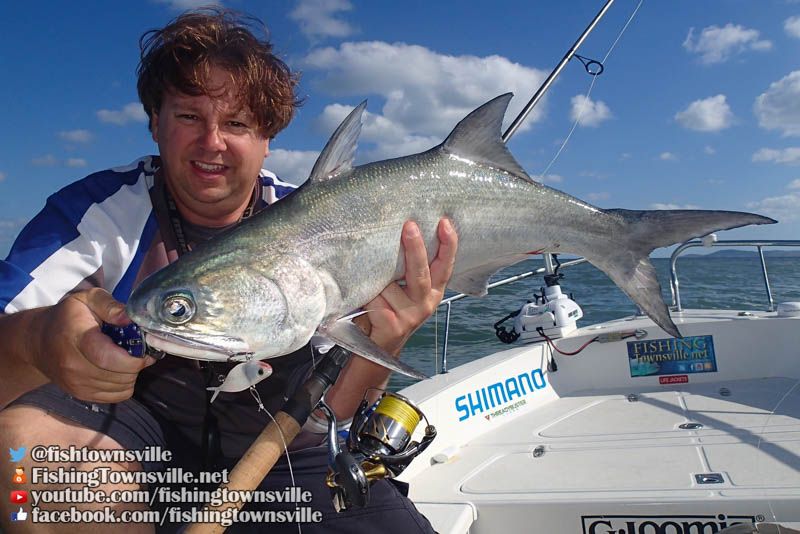 Then yesterday I took Mark, a mate from work, for a run. Again the plan was to run wide, but it was very messy in the bay. So after a very wet ride we managed to find somewhere that wan't too bad and proceeded to catch fish after fish. At times it was quite literally a fish a cast! Initially both Mark and I were using Threadybusters, and they were very successful. But for something different I decided to tie on a Gulp Prawn like the kids were using the week before. I put this on a 1/6oz TT-Lures jig head. It was very successful, with a lot of fish hitting the sinking plastic before it was even jigged up off the bottom. However, it did manage to attract a lot of small fish that might have been selected out with the Thready. Still, good fun for kids and on light line. In the end we put a couple of Salmon in the eski as well as 4 Grunter and a Fingermark.
I have not run the GoPro's for quite a while, and with a 3rd on order for Christmas I though I really should get them out again. So here is a bit of footage from yesterday.