Aftern a morning on The Strand Sunday looking at near perfect conditions in the bay, I decided to take Tania and the boys for a run in the Cruise Craft Monday morning. I had heard reports of the water temp dropping on the weedbeds and bait in good numbers. So I figured the Doggie Mackerel wouldn't be too far away. But when I awoke at 4am Sunday morning it was quite breezy at my place. I didn't feel like waking up 2 kids and a wife to find it was bumpy and not worth going out. Back to sleep.
Later that morning the wind dropped out and looked like staying that way. So we thought we would head off for the afternoon instead. And it was a good choice too. We left the ramp about 1pm and had good run over to the weedbeds with just a slight wind chop on the water.
As the sun was still high in the sky we figured the Macks would be deep and spread out. So a couple of hours trolling was in order before setting up a burley trail and putting out baits. We trolled a Lazer Pro and Rapala in QANTAS red/white in about 4m of water off Long Beach. The water clarity was good and the temp was down to about 21ºC.
We got our fair share of Grinner, agressive little buggas, but eventually a Mackerel hit one of the lures. He was only small and hooked in the back. He threw the hooks just out of reach. But I said to Tania "where there is one there will be more, and where there is more there will be bigger ones". It wasn't long after that we had our first hit and run by a decent fish. I slowed the boat but didn't take it out of gear completely (this helps keep tension on the line if the fish runs toward the baot). As I picked up the second rod to bring in the lure another fish hit, double hookup. I passed the rod to Lachy and soon two nice fish were in the boat. We continued to troll and managed to put a third fish in the eski.
As we had seemed to locate a general area where the fish were holding, we decided it was time to anchor and try the baits. First bait hits the water and I pass the rod to Sebastian to hold. He soon says "I think I'm getting a bite". I turn around and his rod is bent and line is running! He struggled with the fish around the motor and had to hand the rod to me. But once clear it was just a lift and the fish was in.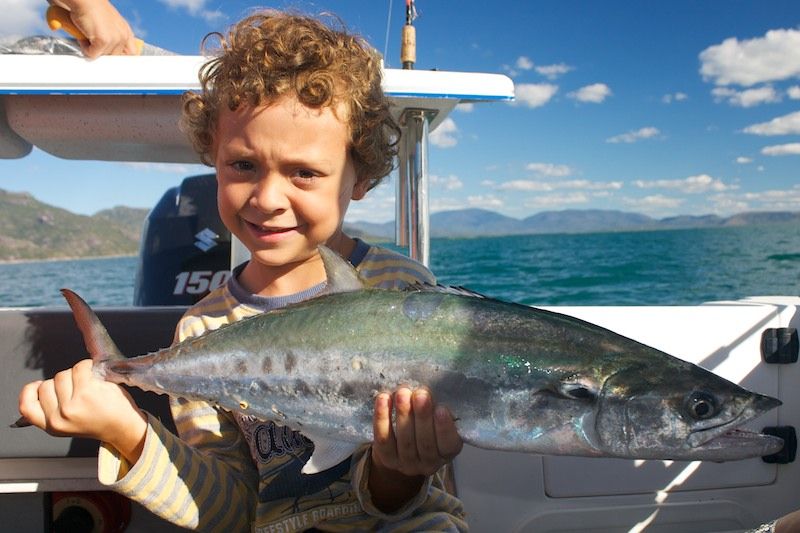 We continued with baits for about an hour, but as the tide slowed and topped out we didn't see another fish. One last try at a troll for Dad to catch a fish and we left for home. A beautiful winters afternoon and feed of fish for the week. What more can you ask for! Lets hope we continue to see some calmer weather over the next few months.